Doping: 2008 Beijing Olympics medal winners among 16 athletes banned for doping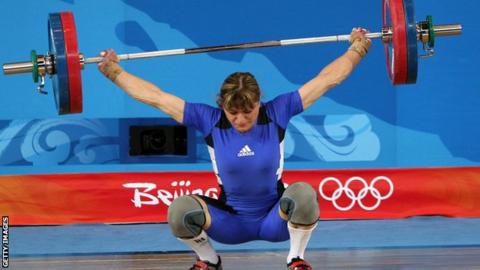 The International Olympic Committee has stripped 10 athletes of medals from the 2008 Olympics after banned substances were found during retests of samples.
The athletes, nine of whom come from former Soviet Union nations, all tested positive for various steroids.
No gold medallists were among the 10, but there were three silver medallists from weightlifting and wrestling.
Greek triple jumper Chrysopigi Devetzi and Ukrainian pole vaulter Denys Yurchenko have lost their bronzes.
Six more athletes who did not win medals in 2008 were also disqualified, including Russia's Elena Slesarenko, who won gold in the women's high jump in Athens in 2004 but was only fourth in Beijing.
The IOC has been retesting samples from both the Beijing and London Games and it brings the total of banned athletes from 2008 to 76.
Sanctioned athletes and their Beijing results
Khadzhimurat Akkaev (Rus) men's 94kg weightlifting - 3rd
Khasan Baroev (Rus) men's 96-120kg Greco-Roman wrestling - 2nd
Natalya Davydova (Ukr) women's 69kg weightlifting - 3rd
Chrysopigi Devetzi (Gre) women's triple jump - 3rd
Mariya Grabovetskaya (Kaz) women's +75kg weightlifting - 3rd
Iryna Kulesha (Blr) women's 75kg weightlifting - 4th
Dmitry Lapikov (Rus) men's 105kg weightlifting - 3rd
Asset Mambetov (Kaz) men's 84-96kg Greco-Roman wrestling - 3rd
Maiya Maneza (Kaz) women's +63kg weightlifting - failed to start competition
Irina Nekrassova (Kaz) women's 63kg weightlifting - 2nd
Vita Palamar (Ukr) women's high jump - 5th
Nizami Pashayev (Aze) men's 94kg weightlifting - 5th
Vitaliy Rahimov (Aze) men's 55-60kg Greco-Roman wrestling - 2nd
Vladimir Sedov (Kaz) men's 85kg weightlifting - 4th
Elena Slesarenko (Rus) women's high jump - 4th
Denys Yurchenko (Ukr) men's pole vault - 3rd
Subscribe to the BBC Sport newsletter to get our pick of news, features and video sent to your inbox.