World Surfing Games: English trio go out in Biarritz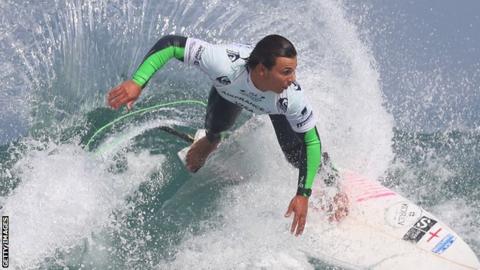 England's surfers were cursing their luck as their last men were eliminated at the World Surfing Games in Biarritz.
Jayce Robinson and Reubyn Ash made fourth-round exits - the midway point in the event - while Luke Dillon fell at round three.
The event in France is the first world championships since the sport was announced for the 2020 Tokyo Olympics.
A record number of countries have taken part with first-timers such as Senegal and China among the 47 nations.
"I had a good run and then I creased my board in the tail and didn't feel right after that," Robinson told BBC Sport.
"But against some of the best guys in the world it was a good result for England."
Dillon had to contend with one of France's star surfers, Jeremy Flores, in his third-round heat.
"I had a good first wave then the waves moved all over the place," said Dillon.
"It wasn't a normal heat where everyone gets waves on one peak.
"I was just a bit unlucky not to get a good second wave on that one."
World Surfing Games - how it works
More than 45 countries involved
Team, men's individual and women's individual medals at stake
96 men start in round one in 24 heats of four men
There are six rounds before the final - between four men
Main event round losers go to the repechage event [of which there are nine] where they can still win to rejoin the main draw
Two go through from each heat to the next round
Events are timed with a competitor's top two judged sets within that time being averaged to achieve their total and ranking
There's also a repechage final
The women's event has four main event rounds then a final, with seven repechage rounds