'Heart of an athlete beats inside of me' - Brazilian grandmother Ivonette Balthazar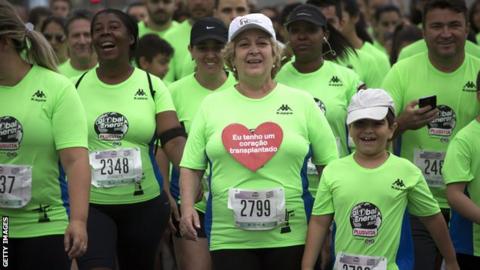 "The heart of an athlete beats inside me. The heart of a young person."
Ivonette Balthazar is a 67-year-old grandmother. She is about to set off on a 3km fun run alongside Rio de Janeiro's Copacabana, which 13 months ago was hosting the Olympics.
Among those who flocked to the Brazilian city for the Games was German canoe coach Stefan Henze, an Olympic silver medallist.
Henze would never go home - he died, aged 35, three days after a taxi carrying him and another coach crashed into a concrete barrier near the Olympic Park.
But the story does not end there.
Henze was an organ donor. With the permission of his family, his heart, liver and both kidneys were used to save the lives of others. Local health officials praised his family for their "tremendous generosity".
Balthazar, a resident of Rio, was top of the list for a donor heart. She had had a heart attack in 2012 and was rapidly running out of time.
Then she received a call from the Instituto Nacional de Cardiologia - Rio's heart hospital. She would receive Henze's heart.
"If I didn't have this heart, I wouldn't be running," Balthazar tells AFP news agency. "This race is a challenge for me - and for him."
This is her first major physical exertion since the life-saving heart transplant in August last year.
With a red paper heart which reads 'I have a transplanted heart' pinned to her chest, Balthazar decides against running, but walks the course at a steady pace.
As she crosses the finish line, she is overwhelmed, and immediately thinks of Henze.
"I'd love to meet his mother, to hug her and thank her," she says. "I know on the other side there is an entire family crying.
"The two of us are here. And this is a gold medal for me."