Pat Hickey: IOC overrules Irish governing body's decision over former president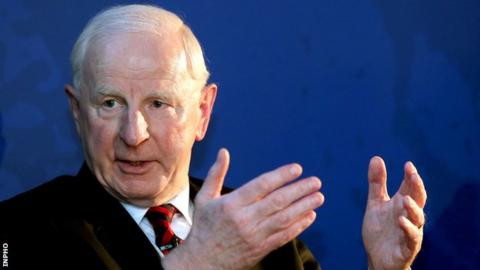 The International Olympic Committee (IOC) has blocked the Olympic Council of Ireland's (OCI) attempts to prevent the return of Pat Hickey to the Irish Olympic governing body's board.
Hickey, 72, was arrested and charged in Brazil last year over alleged ticket touting during the Rio Olympics.
In August, the OCI said it would not accept the return of former president Hickey to its board.
However, the OCI admitted on Tuesday it had been overruled by the IOC.
This is because under IOC rules, Hickey, as a member of the IOC, is automatically entitled to be on the board of his national Olympic committee.
Hickey resigned from the IOC's executive board in September, saying that he had taken the decision to "protect" the international body while maintaining his innocence in regard to the Brazilian charges.
A trial date for Hickey's case was set for 29 November but the hearing did not take place after the Brazilian Supreme Court granted an injunction to suspend the case.
Hickey, who was arrested during last year's Olympics and spent two weeks in a Rio prison before eventually being allowed to return home on bail to Ireland, can remain as an IOC member until the age of 80.
OCI secretary general Sarah O'Shea told a press briefing on Tuesday that the IOC "wouldn't accept" attempts to prevent Hickey's return to the Irish governing body's board.
"They have come back to us to advise us that the IOC must sit on the board and they must have a vote on the board and that they would not be subject to term limits. The IOC have explained to us that this is mandatory under the Olympic charter," added the OCI secretary general.
"They have however made it clear that the issue of the IOC member is non-negotiable and that no exceptions can be made to that and also that it applies to all 206 countries so it's not an Irish issue; it applies to every one of the 206 Olympic countries."
The latest developments concerning Hickey came as the OCI revealed its intention to launch a new seven-year plan aimed at improving athlete welfare.