Olympic Council of Ireland: Government restores funding to national Olympic body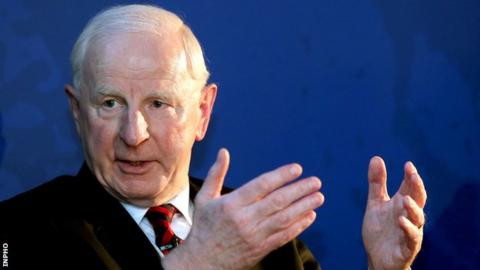 The Irish Government is to give £263,000 of funding to the Olympic Council of Ireland (OCI) that had been withheld following the ticketing controversy at last year's Olympics.
Then OCI president Pat Hickey was arrested and charged in Brazil over alleged ticket touting during the Rio Games.
Pending an inquiry into the affair, the government withheld the funding.
Sports Minister Shane Ross said on Thursday the funding would be restored.
This also followed the OCI's decision to accept all the recommendations of a further official report into the affair.
Back in September, the minister released just under £90,000 that had been withheld from 2016 government funding.
"I made it clear that full restoration would only be achieved if the OCI continued progress on its corporate governance reform agenda and addressed the legacy issues arising from the 2016 Rio Olympic Games," said the Irish Sports Minister.
OCI president Sarah Keane, who succeeded Hickey last February, said the Irish Olympic governing body would now be able to "move confidently ahead with our athlete-centred plans for 2018 and beyond".
"The decision to restore state funding is recognition of the hard work that has taken place this year at the OCI to transform its governance arrangements and the efforts made to tackle some of the other legacy issues arising from the Rio Games," said the OCI president.
Hickey resigned from the International Olympic Committee's executive board in September, saying that he had taken the decision to "protect" the international body while maintaining his innocence in regard to the Brazilian charges.
A trial date for Hickey's case was set for 29 November but the hearing did not take place after the Brazilian Supreme Court granted an injunction to suspend the case.
Hickey was arrested during last year's Olympics and spent two weeks in a Rio prison before eventually being allowed to return home on bail to Ireland.