Skateboarding: Women only sessions can address gender stereotypes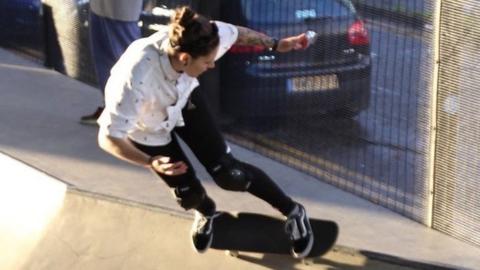 Encouraging more women to take up skateboarding is important to reduce gender stereotypes within the sport, a professional coach has said.
Cath Shanks, Development Officer for Projekts MCR skatepark, believes the sport can teach valuable life skills.
"Skateboarding can give girls drive and something to focus on, it increases their confidence and gives them worth," the Manchester-based coach said.
Skateboarding will be included in the 2020 Olympics for the first time.
In 2016, the International Olympic Committee announced it was one of five new sports will be added to the 2020 Games in Tokyo.
Shanks will run a women-only session on Friday after an invitation from Isle of Man skateboarding (ISB).
ISB founder Kristian Edwards said: "The sport is an excellent way to express yourself and can improve coordination, balance, endurance and flexibility.
"Currently the vast majority of skaters are male but there is no reason for that. We want to encourage more women try it out."
The session will be held at Hot Rocks Indoor Climbing Wall in Douglas and is supported by the Manx government's Year of Our Island 2018 initiative.
Shanks added: "We run girl only sessions because it creates a safe and welcoming environment for the females to try for the first time.
"I'm excited to bring what we do the the Isle of Man."