Lizzie Armanto: American eyes Tokyo after 'gnarliest' trick in skateboarding
Last updated on .From the section Olympics
"Hands down the gnarliest thing I have done on a skateboard."
Those were Lizzie Armanto's words after she became the first woman to complete the infamous Tony Hawk Loop.
The 25-year-old from Santa Monica last week defied gravity to land what is regarded as one of the most dangerous stunts in skateboarding.
"In this sport, there's nothing like it," she told BBC Sport.
"It wasn't until I was halfway across the parking lot that I realised, 'oh my god, I did it!'"
Armanto's mother is partly responsible, having signed up her then 14-year-old daughter for the skate park.
"I used to come home all bruised and scraped up," says Armanto.
"I used to hide my injuries from her but then she started skating herself and started picking up bumps and bruises too - she started showing them to me and the whole situation turned!"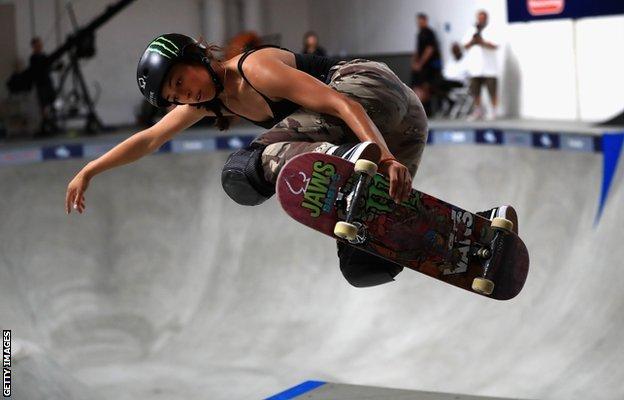 Not deterred by the risk factor - she even lost her front her teeth when she landed on her face in 2011 - Armanto has become one of the best skateboarders in the world, winning two X-Games medals and even becoming a video-game character in Tony Hawk's Pro Skater 5.
But what does becoming the first woman to do the loop mean to her?
"Being the first female is just the cherry on top of the whole situation," she says.
"Only about 20 people have ever managed to do it so I wouldn't want to demean how gnarly it is by saying 'I'm a woman and I did this' - it's gnarly whether you're male or female."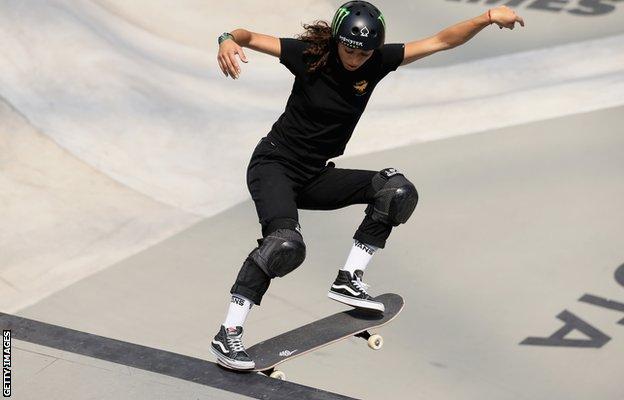 Armanto says the key to the loop is the mental state you approach it in.
"To start out, they surround the loop with pads and then slowly take them away one by one," she says.
"People get flung out of it left and right and have no control. You have to be fully committed until you come out the other side."
So what's next? Or, should we say, where next? Tokyo, perhaps?
Skateboarding will be an Olympic sport in 2020, and Armanto is hoping to be there, representing not just her country.
"Tokyo is definitely on my schedule," she says.
"With the Olympics being such a huge platform, I think it's up to the skateboarding community to represent the sport well. That's what's most important to me.
"When I was growing up there weren't that many women at the skate park so if people see both sides represented well, I think it's going to get a lot more people juiced on it!"