World champion Stephanie Gilmore praises World Surf League equal prize money announcement
Last updated on .From the section Olympics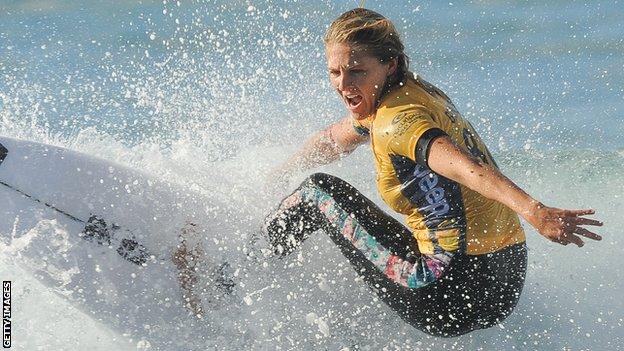 Six-time world surfing champion Stephanie Gilmore hopes the World Surf League's decision to give equal prize money to male and female athletes will lead to other sports following suit.
The changes will start from next year onwards.
The WSL becomes the first US-based global sports league to achieve prize money equality.
"I hope this serves as a model for other sports, global organisations and society as a whole," said Gilmore.
"The prize money is fantastic, but the message means even more.
"From the moment current ownership became involved, the situation for the women surfers has been transformed for the better in every way. We have been so appreciative, but this takes it to another level."
In 2017, a BBC study found 35 out of 55 sports whose governing bodies responded, paid equal amounts to men and women.
Surfing, which is one of the world's fastest-growing sports, will be part of the Olympic programme for the first time in Tokyo in 2020.
WSL chief executive Sophie Goldschmidt, who was formerly the chief commercial and marketing director with the Rugby Football Union, said she wants the sport to lead the way in pushing for equality.
"We feel very lucky to have women on our tour who are highly talented, iconic role models, and more than deserve this recognition as they stand alongside our extraordinary male athletes," she said.
"This is the latest in a series of actions the WSL has undertaken to showcase our female athletes, from competing on the same quality waves as the men, to better locations, and increased investment and support."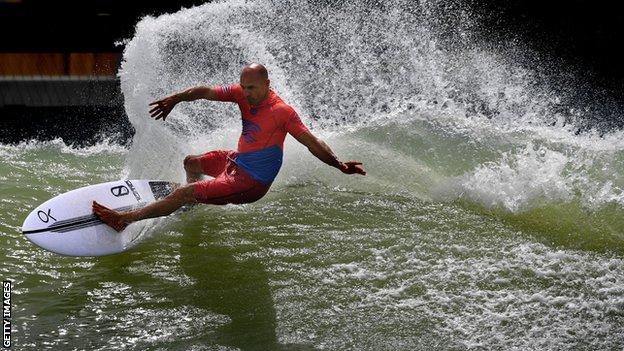 The move was also backed by 11-time world champion Kelly Slater.
"The women on the tour deserve this change," said the 46-year-old American.
"The female WSL athletes are equally committed to their craft as the male athletes and should be paid the same.
"Hopefully it gets some traction with the world at large, the larger sporting world, and people start to realise the precedent being set here, the message being sent out and challenging other people to do the same thing," he told BBC Sport.
"I said to someone in the lead up to this that I hope this is the norm and not an outlier to the future where people look back and say "remember that time when men and women weren't paid the same".
"We see it across a lot of different businesses and career paths so it would be nice to equalise that and make it the normal way of life."
Earlier this year the WSL was criticised over the disparity in prize money between the male and female winners of a junior surfing tournament in South Africa.