Surfing at 2020 Olympics: Kelly Slater pioneering artificial wave technology
By Alistair Magowan
BBC Sport
Last updated on .From the section Olympics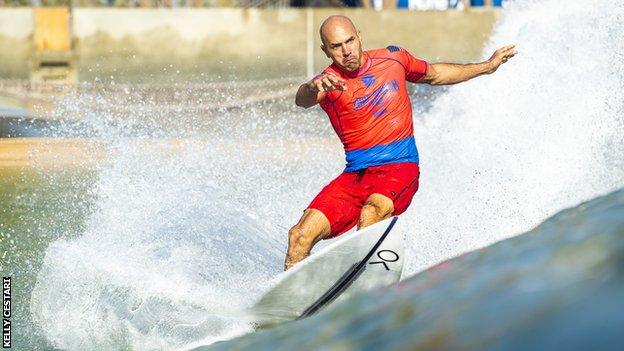 Eleven-time world surfing champion Kelly Slater has ridden the best waves from South Africa to Tahiti, but the look on his face when he first saw the artificial wave he helped build told of a new beginning.
On a cold California morning in December 2015, the American widely known as the most professional surfer ever could only hold his arms aloft, beam his wide Floridian smile and shout: "Oh my God!"
No-one has more world titles than the 46-year-old and he holds the records for the youngest world champion at 20 and the oldest at 39.
But he tells BBC Sport building the Surf Ranch - regarded as the best artificial wave pool in the world - has been "the most rewarding part of his career".
The project, which cost a reported $30m and took 10 years to create, appears to have paid off as surfers and fans will flock to the finals of the inaugural Surf Ranch Pro on Sunday - the first time a World Championship Tour event has been held at a wave pool.
And with Slater building another lagoon just outside of Tokyo in time for the 2020 Olympics where surfing will make its debut, he can continue as a pioneer despite reaching the twilight of his career.
He also has designs on competing there.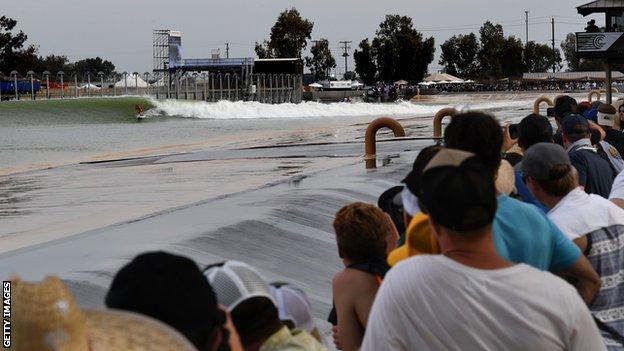 Why surfing needs artificial waves
Surf pools or lagoons are becoming popular all over the world, in an attempt to make surfing more accessible. There is even one in the Snowdonia mountains of north Wales.
Booming ocean waves might be heaven for experienced surfers but they make it hard to learn for beginners.
And the unpredictability of the weather means that you can never predict if a surf competition will have waves at the right time, which plays havoc with broadcasters. Often an event will leave a 10-14 day window open in the hope the swell turns in the right direction, meaning ticket sales can suffer.
Wave pools help eliminate all these problems and bring the crowd closer to the action.
Waves are created every few minutes and allow surfers to travel up and down the pool, meaning there is no waiting time for the right swell to land or even the right wave.
With every ride identical, and surfers able to score points on waves that travel left and right, it allows judges to compare "apples with apples", as Slater says.
That consistency is an important factor when the winning prize at the Surf Ranch Pro is $100,000, for example, or an Olympic gold medal is on the line.
Immediately, you can see why it might interest organisers of one-off competitions such as the Olympics and aid surfers who might otherwise win a heat based on a better wave breaking exactly where they are.
"It kind of balances everyone out," Slater tells BBC Sport. "When you're surfing in the ocean, you're comparing different peoples' styles, catching different waves, a little bit of luck, the ocean sending someone one way or the other, but here at the Surf Ranch we are all riding the same platform.
"So it really comes down to your skill set. It exposes everyone to what they do well and what they don't do well. What can they bring to the table and how consistently they can do that under pressure?"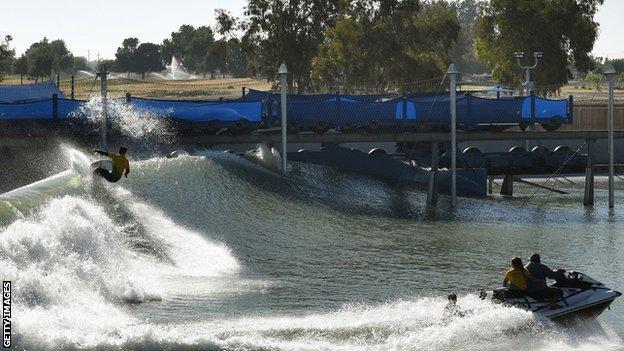 How does it work?
The technology is often a closely-guarded secret, not least at the Surf Ranch where years of design, development and testing have led to a ride which has had professionals comparing it to an ocean wave.
Six-time world champion Stephanie Gilmore said it was one of the highlights of her career when Slater rang her up and asked her to surf his wave pool, describing it as "a whole new world".
Slater, who says he has been "dreaming of this wave my whole life", claims it's more powerful than people think, with some of his friends breaking their boards after wiping out. It also offers a consistent barrel, the likes of which other wave pools struggle to match.
In basic terms, the wave is created in the same way that a boat creates a wake when it runs through water. Only, the Surf Ranch has a very specific bit of hydrofoil technology which runs down the side of the 700m lagoon and makes the wake rise up six foot before peeling over in a perfect curve.
Surfers will travel on the wave at 18mph.
Asked how different it is to riding ocean waves, Slater says: "Surprisingly not very different. It's actually got more power and speed than most waves of its size in the ocean. It reminds people of some of their favourite waves around the world and that's the biggest compliment to it from the hardcore surfers."
It may lack the authenticity of the sea, but Slater says "nothing will replace the ocean", adding that artificial waves should "supplement" that experience.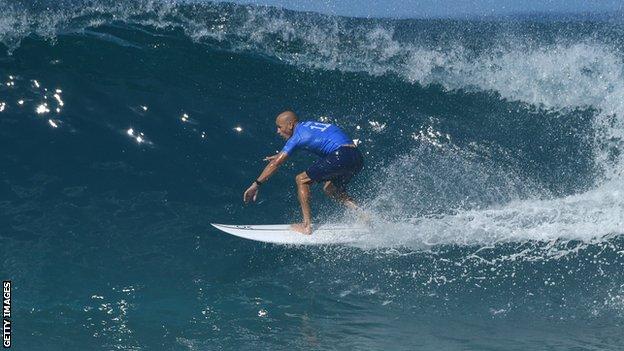 What does it mean for the sport and Olympics?
Given that the Surf Ranch Pro is already booked into the 2019 World Surf League schedule, it looks like artificial waves are here to stay.
Surfing's inclusion at the Olympics also appears to have created a race to build a lagoon near Tokyo for the 2020 Games.
In addition to Slater's venture, which comes under the guise of the Kelly Slater Wave Company, a rival wave is being built outside of Japan's capital.
For now, Tokyo Games organisers say the Olympics will be held on ocean waves, but there will still be benefits for Olympic athletes, Slater says.
"We are building a pool in Japan about 30 minutes outside of Tokyo city centre," he says. "There is no coincidence with regard to the timing.
"If we can get it built in time, great. If not, it's still going to be there for all the surfers in Japan to use and it can still be a training ground for the different teams competing in the Olympics."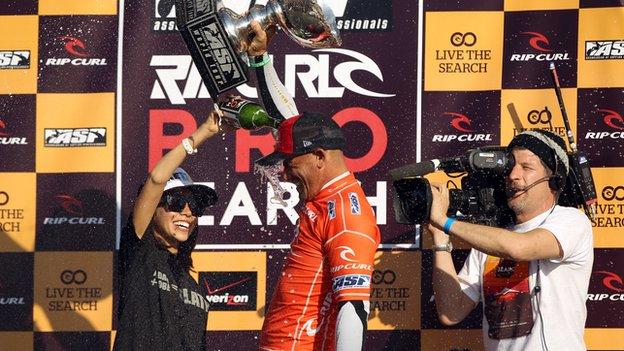 Could Slater compete at Olympics?
The prospects of Slater competing at the Olympics are still in doubt but no-one will know how the wave performs better than him.
Hosting the most famous surfer in the world would also be a huge coup for an event making its debut.
Slater recognises that, at 46 years old, there are younger and more athletic surfers who might qualify ahead of him, particularly as he continues his recover from a broken foot last year. He has said he plans to retire after the 2019 season, which counts towards Olympic qualification.
But it's clear the competitive streak still burns in him.
Asked if he would like to appear in Tokyo despite entering the twilight of his career, he grins and says: "Who told you that, man? I'm just getting started!
"I would like to compete there. Obviously I would have to go through the proper preparation and qualification to do that.
"I have won 11 world titles, but that doesn't guarantee me a spot and I haven't won a world title in many years so I will need to get my act together.
"I know where I stand in relation to other people and the things I need to work on. I'm still dealing with a really tough injury from last year that I haven't gotten over so if I can get past that and get my body and mind in the right place, I think I can compete."
As if to underline his determination, his response to what he wants to take away from this weekend at the Surf Ranch Pro is simple. "$100,000 on Sunday," he says with a straight face followed by that wide Floridian smile.