GB surfing team sets up crowdfunding page to reach Olympic qualifier in Japan
By Alistair Magowan
BBC Sport
Last updated on .From the section Olympics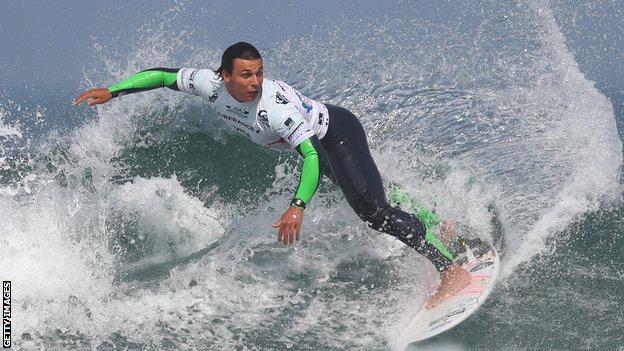 The British surfing team has set up a crowdfunding page because they cannot afford to travel to a 2020 Olympic qualifying event in Japan next week.
Surfing makes its Olympic debut in Tokyo but without a guarantee of medals the team cannot get UK Sport funding.
"We have selected an amazing team but without funding it looks unlikely we can get to Japan which will impact Olympic ranking," British surfing said.
The ISA World Surfing Games start in Tahara, Japan, on 15 September.
The team, which is made up of Jay Quinn, Reubyn Ash, Luke Dillon, Peony Knight, Ellie Turner and Lucy Campbell, needs to raise £10,000 to cover flights then a further £10,000 for supporting costs and coaches.
The funding page says it wants to get the team there to "show the funding bodies how good our surfing athletes are. This will count as evidence to secure sustained funding for the future."
British Surfing director Nick Hounsfield told BBC Sport: "It's sad that a brand new Olympic sport can't get funding at all.
"One of the reasons that surfing is being included in the Olympics is because of its marketability, and from that point of view it's a great opportunity for British sport."
UK Sport, which provides funding for elite athletes, said it ring-fenced £10m for the five new Olympic sports to access, but only climbing and karate demonstrated that they had Olympic medal potential.
It said its "funding policy prioritises investment to sports and athletes with the strongest medal potential" but it will review its policies after Tokyo following a public consultation.
A similar issue is occurring with British Skateboarding, which is also frustrated by its inability to access funds despite the sport also making its Olympic debut in two years.