Vera Caslavska and the forgotten story of her 1968 Olympics protest
Last updated on .From the section Olympics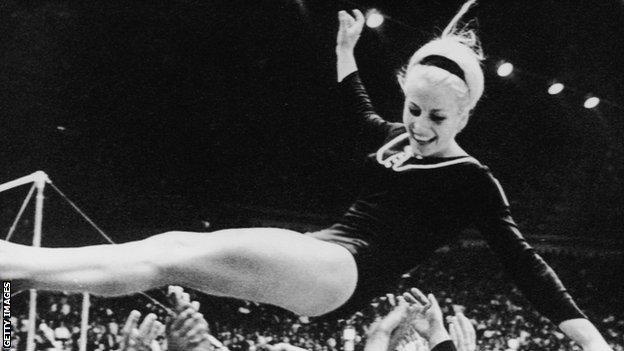 Mexico City, 1968. A newly-crowned Olympic champion is about to make the life-changing decision to stage a political protest on the podium.
Tommie Smith's Black Power salute, right?
Wrong.
This 'other protest' came from Czech gymnast Vera Caslavska as a reaction to the Soviet-led invasion of her country two months earlier.
Smith used a raised right fist to powerfully make his point. Caslavska was more subtle, turning her head away from the flag of what she called the "invaders' representatives", the Soviet Union.
The action was understated. The ramifications were huge, as World Service programme Sporting Witness has discovered through the first-hand account of British gymnast Mary Prestidge.
Troubled preparations
Prestidge spent time training alongside Caslavska in the build-up to the Mexico Games as part of an exchange programme. The Czech gymnast was already a superstar, having won three gold medals at the Tokyo Olympics in 1964, including the individual all-around title.
Her chances of repeating such dominance were dealt a huge blow in the run-up to the Olympics, however, when she was forced into hiding by the Soviet-led invasion of Czechoslovakia in August 1968.
When the 'Prague Spring' reforms were consequently halted, Caslavska, a vocal opponent of Soviet rule, feared she would be arrested so she retreated to a remote forest hideout.
The Olympics were just two months away. Rather than prepare for Mexico in a gymnasium, Caslavska was forced to warm up for the defining competition of her life by using a log as a makeshift balance beam and shovelling coal to toughen up her hands for the rigours of the apparatus.
"Vera had to go into hiding," Prestidge says. "She was someone who had signed charters and been very active underground towards liberating the country, so she and others had to disappear for a while."
Flawless - but not always first
It didn't take long for Caslavska to catapult herself back into the limelight. The 26-year-old was the dominant force in Mexico - and she knew how to work the crowd.
While the gymnasts from the Soviet Union were often booed by the home crowd, Caslavska, with a floor routine set to Mexican hat dance music, captivated them.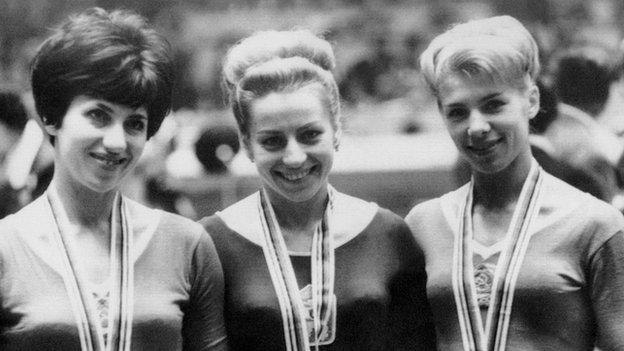 "She had recreated her floor exercises to that piece of music which was obviously a real crowd pleaser, very strategic," remembers Prestidge, who, having finished competing, watched all the finals in Mexico City from the stands. "Her floor exercise was flawless. And actually all of her work seemed flawless."
The judging panel had a different interpretation, however.
Finals day on 25 October 1968 brought with it two separate controversies: Caslavska was forced to share floor gold after the original scores were revised, while in the beam she controversially missed out on top spot altogether.
In both apparatus, a Soviet athlete benefitted: Natalia Kuchinskaya won gold on the beam and Larisa Petrik shared the floor gold.
"There was a bias, I think," Prestidge says. "There was probably a majority of eastern European judges and it was almost like there was a ceiling that was very hard to break for a non-champion to get through. I don't think she (Vera) was complaining about the mark at all. I am sure the rest of the Czech team were."
Caslavska's stated goal for the Games was to "sweat blood to defeat the invaders' representatives". She, like Tommie Smith nine days earlier, felt compelled to make a statement on the podium to highlight a wider cause.
"She was on the podium on the top with Larisa Petrik watching the Czech flag and the USSR flag go up side by side and then listening to the anthems," Prestidge says.
"I can't imagine what she felt. She made a very clear gesture by turning her head away. And then after both anthems and the presentation medals, the shaking of hands takes place. You could see her speaking to Petrik and it was sort of "Oh… I wonder what she said?"
'What did you say?'
Prestidge didn't have to wonder for long. Later that day she was invited up to Caslavska's room to discuss the competition.
"I did ask, 'what did you say?'," Prestidge said. "I don't quite remember her exact words because they were translated but it was to say 'well, I congratulate you on your gymnastics and as a gymnast but not for what your country has done and the invasion of our country'. So quite straightforward and to the point actually."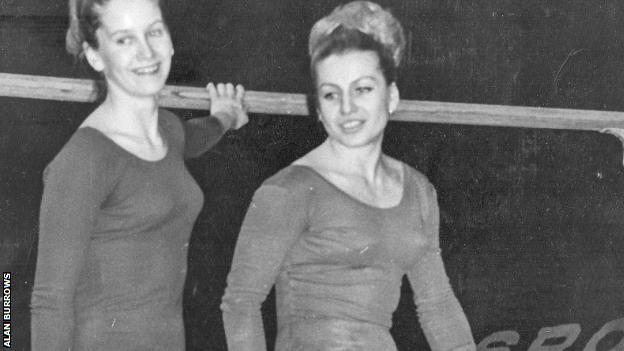 Despite Caslavska's status as a seven-time Olympic gold medallist and still the only gymnast, male or female, to have won the Olympic title in every individual event, it was the Czech authorities who were the next to make their point.
While Smith was banned from international competition following his gesture, Caslavska retired after Mexico City but was effectively banned from leading a normal life for much of the next 20 years - forced to spend time working as a cleaner and often barred from coaching children.
The Velvet Revolution and fall of communism in 1989 saw Caslavska welcomed back into society - she worked as chair of the national Olympic committee - but her world was turned upside down in 1993.
Tragic ending
While still in Mexico after the 1968 Games, Caslavska married fellow Olympian and Czech 1500m runner Josef Odlozil. They divorced in 1987, and in 1993 a tragedy befell the family when Josef died after a fight with their teenage son Martin in a bar. Caslavska spent much of the rest of her life in a depression.
And Prestidge, much to her eternal regret, never got to see her idol again.
Caslavska died in 2016 and Prestidge says: "I had wanted to say a lot to her. That she was a real inspiration not just in her gymnastics but who she was. The fight in her. The amazing strength of character. I would have loved to see her and really said how much I admired her and how much my generation did.
"She was seen to be much more than just a gymnast or a sportsperson. She carried that in her performance and who she was as a person. The two were tightly together and she never undermined one for the other. She was going to be champion of the world and not sign away her political allegiance either... bravo!"
Sporting Witness: The Czech Gymnast Who Defied The Soviet Union, will be broadcast on World Service on 20 October at 2050 BST.