Team GB's Demi Stokes: 'We feel strongly' on taking the knee
Last updated on .From the section Olympics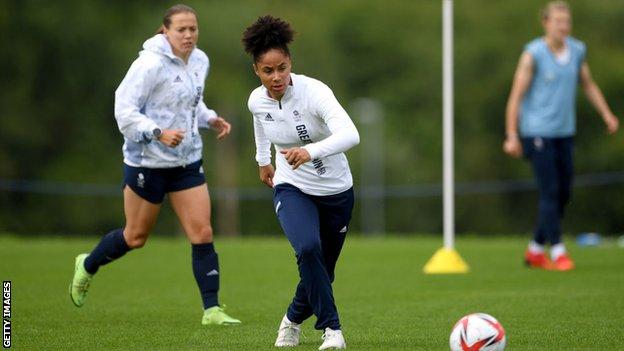 Team GB women's football at Tokyo 2020
Next fixture
: Great Britain v Chile
Date
: 21 July
Kick-off
: 08:30 BST
Venue
: Sapporo Dome, Sapporo
Coverage
: Watch live on BBC Two from 08:15 BST. Live text coverage on the BBC Sport website. Commentary on BBC Radio 5 Live from 08:30 BST.
Defender Demi Stokes said the Great Britain's women's football squad "feel strongly" about their decision to take the knee before games at the Tokyo Olympics this month.
Rules around athletes protesting at Tokyo 2020 were relaxed by the International Olympic Committee.
Head coach Hege Riise said the squad "were all united" in their decision.
"We know we have a big part to play. It's important we use our platforms to help in any way we can," said Stokes.
"We all feel strongly as individuals and as a team. We all understand what's been going on around racism and discrimination. It is the people that don't have a voice that we are standing up for.
"We want to show to everyone this is something serious. It's still happening. What a way to do it, on an Olympic stage."
Players in the women's and men's game have been taking the knee to highlight racial injustice.
Head coach Riise said the squad were "glad the IOC acknowledged the importance of this form of freedom of expression".
She added: "We were all united in our decision to continue doing whatever we can to raise awareness of racism and discrimination in all its forms, standing in unity and solidarity with all those whose lives are affected.
"We are clear that taking the knee is an important symbol of peaceful protest against discrimination, injustice and inequality in society."
British Olympic Association's (BOA) Andy Anson added: "By taking the knee, our women's football side are embodying the values of Team GB."
'Not the time to go silent on the issue'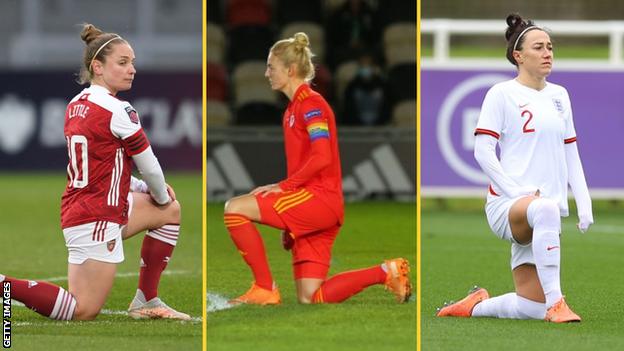 Team GB players and staff approached the BOA with their intention to take the knee and it was relayed to the IOC.
Chelsea goalkeeper Carly Telford said it was "one of the first things we discussed as a group" and they were keen to make a statement as one of the first nations to compete at the Olympics.
Team GB's first group game is against Chile on 21 July in Sapporo, two days before the opening ceremony.
"We also wanted to feel that the other nations - whether it's in football or other sports - could feel free to do that as well," she added.
The IOC granted Team GB's wishes under new rules which state athletes will be able to "express their views" before and after competing, as well as when speaking to the media, but cannot do so during events, opening and closing ceremonies, victory ceremonies - on the podium - and at the Olympic Village.
Any protest is not allowed to be "disruptive", including unfurling a flag or banner during "the introduction of another athlete or team".
And any gesture cannot be "targeted, directly or indirectly, against people, countries, organisations and/or their dignity".
The new guidelines followed consultation with thousands of athletes around the world.
Telford added: "The power that the Olympics has worldwide, I think it's important that we get that message across.
"Unfortunately, it's not easy for people to live freely based on the colour of their skin, the sex they choose to be or the people they choose to be with in life.
"It's a huge opportunity to show the world that people can be who they want."
Arsenal defender Leah Williamson added: "I don't think this is the time to go silent on this issue and it's just been proven the other day with the boys in England's squad.
"It should be something that we celebrate - the diversity that we have in Britain."
Why do players take the knee?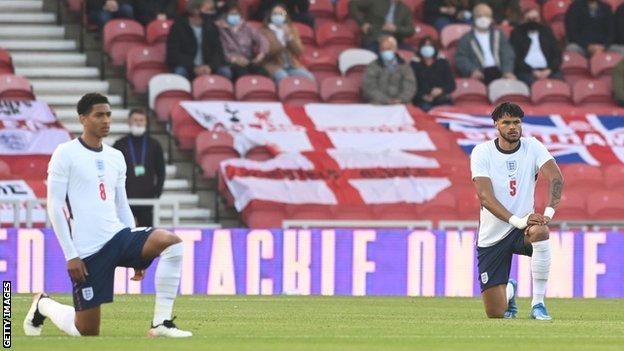 American footballer Colin Kaepernick took the knee during the national anthem before a match in 2016 and it has since become a prominent symbol in sport and during anti-racism protests.
Following the murder of George Floyd last year, players and officials in the Premier League and EFL took the knee on the restart of the 2019-20 season in June 2020 to highlight racial inequality and discrimination.
Women's football followed suit during the 2020-21 season, alongside national teams.
Last month, England men's international Tyrone Mings said the team wanted to "educate and inform" in response to criticism from Home Secretary Priti Patel for taking the knee.
She had previously described taking the knee as "gesture politics".
The England players were booed by some fans for making the gesture prior to their Euro 2020 opener against Croatia at Wembley.
England manager Gareth Southgate said his players decided to continue during Euro 2020 and said they felt "more determined than ever".
England trio Marcus Rashford, Jadon Sancho and Bukayo Saka were targeted on social media after missing penalties in a shootout defeat to Italy in the Euro 2020 final.
Asked whether members of the Team GB squad considered not using social media during the Olympics, Stokes said: "Everyone is different in the way they will use social media but in tournament football I think it's important to still stay engaged and let people know what's going on.
"You almost have to protect yourself as well. When [England's Euro 2020 final] went to penalties, you instantly think 'I hope they score' because I just knew exactly what was coming. That's an awful position to be in."
Three captains named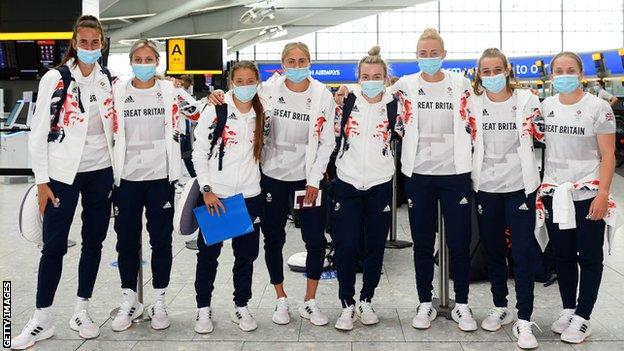 The FA also confirmed Scotland's Kim Little, Wales' Sophie Ingle and England's Steph Houghton have all been named as captains of the Team GB squad.
Each player will wear the armband on rotation throughout the tournament.
Scotland vice-captain Little and England skipper Houghton are also captains at their clubs Arsenal and Manchester City respectively, while Ingle, who plays for Chelsea, wears the armband for Wales.
"They bring such different things on the pitch and off the pitch," said Telford. "They represent who we are as people. They represent our nations.
"It's going to take 22 of us to get us over the line if we want to win a gold medal and the three that she's chosen to wear the armband are vital parts of it."
The squad flew out to Japan to begin preparations at a training camp in Yokohama last week.
Midfielder Little wore the armband during a behind-closed-doors friendly against New Zealand on Wednesday, which Team GB are believed to have won 3-0.
Team GB will also face Japan and Canada in Group E. The top two teams will advance to the quarter-finals, as well as the best third-place finishers.