Tokyo Olympics: Charlotte Worthington wins BMX freestyle gold for Great Britain
Last updated on .From the section Olympics488
Great Britain's Charlotte Worthington recovered from a fall on her first run to win a thrilling gold in the women's BMX park freestyle Olympic final.
The 25-year-old, who gave up work as a chef to focus on the sport in 2017, delivered an action-packed score of 97.50 to snatch gold on her second run.
The gripping action set the stage for Declan Brooks to seal bronze in the men's event, Britain's fourth BMX medal of a remarkable week.
The 25-year-old watched on as riders failed to surpass his mark of 90.80, with Australia's Martin Logan taking gold on 93.30.
Brooks' medal followed shortly after Worthington's superb victory. With no score of significance on the board after her fall, she simply had to deliver on run two and did so by becoming the first woman to land a 360-degree backflip in competition - the same trick that left her on the floor during run one.
She celebrated her score wildly and then watched as four rivals - including favourite Hannah Roberts - failed to usurp her mark.
"It was incredible," said Worthington when asked about the key backflip.
"I've not been doing that trick for so long but we've been trying to find that big banger trick and when we did we thought, 'this is the one'. If it wasn't for Hannah Roberts, we wouldn't be doing these tricks.
"It's a lot of hard work paid off."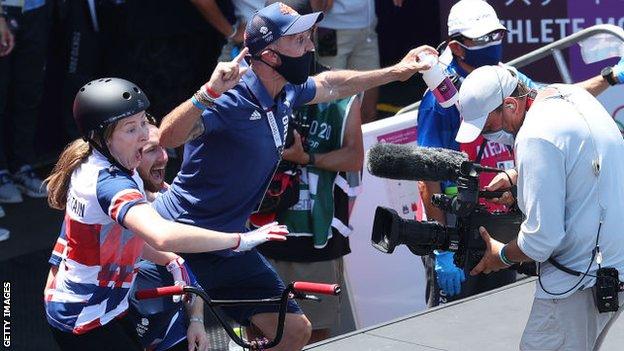 Riders were ranked on their best score from their two runs and Worthington's 97.50 transferred all of the pressure to American Roberts, who appeared to be cruising to the title after she put up 96.10 on run one.
The 19-year-old - who had thrown her bike in the emotion of completing her first run - could not finish her second 60-second stint on the Tokyo course and, as the last rider to compete, her concession confirmed Worthington's champion status.
Roberts, the winner of all three World Cup events in BMX freestyle's last complete season in 2019 - looked shocked at the turnaround.
"There was definitely a lot going on," said Roberts, who beat Switzerland's Nikita Ducarroz into bronze. "My first run was good and I know there were places I could improve. I slipped up and hurt my ankle.
"I'm honoured to take second place to Charlotte. It's definitely an exciting time for our sport."
Medals for Worthington and Brooks follow gold and silver respectively for Britain's Bethany Shriever and Kye Whyte in BMX racing at the Games.
Worthington, a late convert to BMX, opted to give her role up as a chef in 2017 and told BBC Sport she had been "sweating it out in the kitchen for over 40 hours a week and barely had any time or energy to ride".
The move came with what she called a "lifestyle change" and she was keen to point out how personal development in her life away from the bike had laid the framework for her to sharpen her skills on it.
Worthington has said that the delay to Tokyo 2020 gave her more time to develop the tricks she would need on the big stage.
She has now won British, European and Olympic titles.
'I've cried but I'm stoked'
Brooks, who almost missed out on the Games after knocking himself out during the World Championships in June, improved his first-run score to 90.80 and then watched on patiently as six riders followed him in the second run.
Only one, Venezuela's Daniel Dhers, managed to beat it, with Logan's score from his first run enough to secure gold.
Visibly emotional, Brooks told BBC Sport: "I've just cried for the last couple of minutes.
"It's an unbelievable journey I've had on the way here. I am just so stoked. I don't think it will sink in for a while. For Charlotte to do her things today and put a score and tricks up there that we had never seen before, it was even harder focusing.
"I knew the run I wanted to pull, I still missed a few bits out but, to be honest, I think that is all I had."