Tom James admits to doubts over Great Britain future
Last updated on .From the section Rowing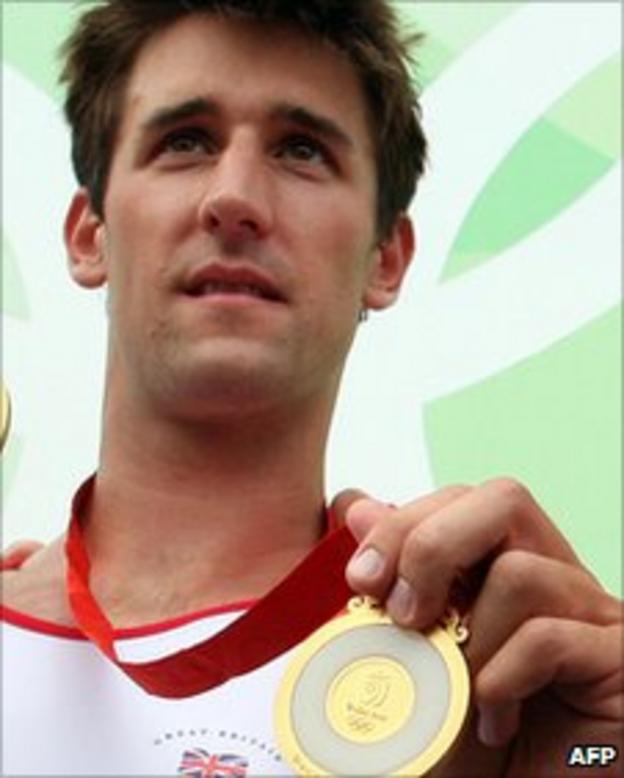 Olympic champion Tom James admits he had doubts whether he would return to the Great Britain rowing squad.
James took a year off after the 2008 Games and then suffered a back injury which sidelined him last season.
"When you've been knocked back quite a bit then the doubts do set in," said James.
"I've always been confident that I'm a good rower. I turned up for the first set of trials completely open minded just trying to make sure I'd get into the squad.
"To be honest it's gone a lot better than I expected and it's a privilege to be back in the four. There's a good feeling and a good set up for us to move on."
Having returned to action in the Great Britain senior trials in April, James has been selected for the opening World Cup regatta of the season in Munich later in May.
The Munich World Cup is the start of a three-series event, with the other races taking place in Hamburg in June and Lucerne in July.
James will join Alex Gregory, Ric Egington and Matt Langridge with Alex Partridge transitioning into the men's eight.
And the Wrexham-born Olympian has already set his sights on the World Rowing Championship, which will be held in Bled in Slovenia in August.
"These World Cups for me will be the first race I've done since Beijing. For me personally they are quite important," James told BBC Sport Wales.
"As a crew we definitely want to go out and aim really high to make sure we stay as a four.
"The World Cup's a stepping stone. The big one is the World Championship in late August.
"That's the qualification for next year [and] that's making sure our British coxless fours get selected into the Olympics so we can actually compete there.
"Otherwise you have to through another qualification round four weeks before the games which is a horrible scenario to be in.
"That's the real aim of this World Championship but obviously on top of that we will want to win.
"We want to set our standards really high and make sure that we give ourselves the best possible chance of winning in London, which is the ultimate goal."
Two other Welsh rowers, Vicky Thornley and Chris Bartley, have also been selected to represent Great Britain at the first World Cup of the season.
Thornley will be competing in the single scull event while Bartley has successfully retained his seat in the lightweight equivalent discipline.