Rowing World Cup: What to watch in Munich
Last updated on .From the section Rowing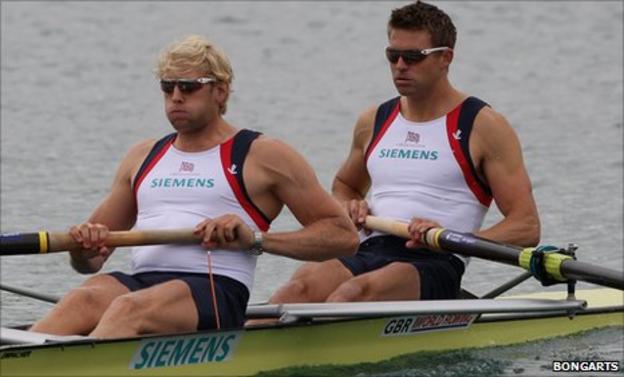 In-depth guide on the World Rowing website
1003 - Women's pair (W2-)
Great Britain's Helen Glover and Heather Stanning were surprise silver medallists at the World Championships in New Zealand last November and appear to be favourites here but keep an eye on the two boats from the United States, each containing a former world champion in Susan Francia and Erin Cafaro.
1015 - Men's pair (M2-)
World champions Eric Murray and Hamish Bond of New Zealand are absent, leaving Brits Andy Hodge and Peter Reed as favourites. The GB duo have lost to the Kiwis in their last 12 encounters and - despite being one of the world's top crews - the only World Cup gold either man won last year was when Reed rowed as a substitute in the eight.
Greece finished third behind those two crews at last year's Worlds but Ioannis Christou has a new partner this season in Nikolaos Gkountoulas.
1027 - Women's double sculls (W2x)
Brits Anna Watkins and Katherine Grainger were named world women's crew of 2010 after they went unbeaten throughout the season on their way to a world title but Watkins is currently injured, so veteran Scot Grainger is joined by Melanie Wilson. Belarus could be best-placed to capitalise if the new-look GB double is not as strong.
1039 - Men's double sculls (M2x)
The Red Express - Great Britain's Marcus Bateman and Matthew Wells - are favourites in the absence of the New Zealand duo who pipped them to world gold in 2012. Estonia, Switzerland and 2009 world champions Erik Knittel and Stephan Krueger of Germany are among their rivals and watch out for Slovenia's top rower Iztok Cop, who returns with a new partner after apparently retiring a year ago.
1051 - Men's four (M4-)
Welshman Tom James returns to international action for the first time since winning Olympic gold in Beijing, to help Alex Gregory, Ric Egington and Matt Langridge take on world champions France and 2010 silver medallists Greece. There is an early chance for Great Britain to gain revenge for a frustrating 2010 World Championships, in which they feel they were put at a disadvantage by water conditions in finishing fourth.
1103 - Lightweight women's double sculls (LW2x)
Brits Hester Goodsell and Sophie Hosking were strong throughout last year's World Cup series but missed out on a world medal in Karapiro in November. They are one of the few unchanged crews this season, though, with Austria, the United States, Belgium, China, Germany and Poland all possible medal contenders.
1115 - Lightweight men's double sculls (LM2x)
World and Olympic champions Zac Purchase and Mark Hunter are back together for another year after a tough selection process that saw an injury-hit Hunter only just regain his spot. A strong Italian duo, and Olympic bronze medallists Mads Rasmussen and Rasmus Quist of Denmark await.
1127 - Lightweight men's four (LM4-)
Three-time Olympic champion Eskild Ebbesen returns to action for the first time since Beijing, at the age of 38, in an attempt to help Denmark dethrone British quartet Richard Chambers, Paul Mattick, Rob Williams and Chris Bartley, who won the world title in thrilling style last year.
1139 - Women's quadruple sculls (W4x)
Brits Annabel Vernon, Beth Rodford, Debbie Flood and Frances Houghton came together late to win the 2010 world title after Flood and Houghton returned from time away from the sport. Ukraine, who finished behind them in Karapiro, will be out for revenge; Germany have two strong crews and Poland appear improved.
1151 - Men's quadruple sculls (M4x)
Great Britain reached a world final in this boat class last year for the first time since 1982 and will challenge again, with Tom Solesbury having joined Stephen Rowbotham, Bill Lucas and Sam Townsend under new coach Mark Banks. However, the contest for gold is likely to be between Croatia and Poland. Olympic champs Poland beat Croatia to the 2010 European title but missed the subsequent Worlds, where Croatia triumphed.
1206 - Women's eight (W8+)
With the United States and Canada missing from Munich, 2010 world bronze-medallists Romania face a challenge from a British line-up that has two changes from last year, including the return from the sculling squad of Katie Solesbury, whose husband Tom features in the GB quad. The Netherlands will also be strong.
1221 - Women's single sculls (W1x)
Sweden's Frida Svensson must be favourite after her Worlds win last year over double Olympic champ Ekaterina Karsten of Belarus but Czech Mirka Knapkova is also in good form. Former showjumper Vicki Thornley is Great Britain's entrant.
1236 - Men's single sculls (M1x)
Ondrej Synek of the Czech Republic was unbeaten all year, on his way to the 2010 world title but Britain's Alan Campbell - 2010 world bronze-medallist - always begins the season well and Germany's Marcel Hacker is always one to watch. Meanwhile, Olympic champ Olaf Tufte of Norway lurks in the shadows. New Zealand's four-time world champion Mahe Drysdale will join the battle later in the World Cup series.
1251 - Men's eight (M8+)
Great Britain were desperately disappointed that they were not able to prevent Germany winning their second successive world title last season and get an early re-match on the Germans' home water. Dan Ritchie, who again strokes the GB crew, was just five years old when crew-mate Greg Searle won Olympic gold in Barcelona but Searle is junior to Dutch stroke Diederik Simon, 41.