Olympic champion Zac Purchase to make GB squad return
Last updated on .From the section Rowing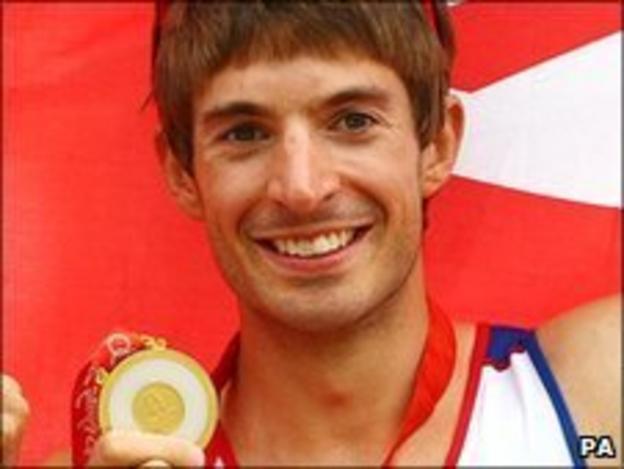 Olympic champion Zac Purchase is set to return to the British squad for September's World Championships in Slovenia after illness.
Frances Houghton is also back but not yet sure which boat she will be in.
Elsewhere, Chris Bartley looks likely to return to the lightweight four, denying brothers Peter and Richard Chambers the chance to row together.
The rest of the squad is largely unchanged for an event that doubles as a qualifier for the London Olympics.
Great Britain will aim to defend four world titles in Bled from 1 to 4 September. They secured 10 medals, including four golds, from the 14 Olympic classes a week ago at the Lucerne World Cup event - the biggest event outside the World Championships this year.
"Lucerne was an excellent curtain-raiser for the World Championships," said GB performance director David Tanner. "We had some great performances that we would hope to carry through as the competition steps up."
Andy Hodge and Pete Reed remain in the men's pair, despite pressure to move into a larger boat after their run of successive defeats to New Zealand stretched to 13 following the Lucerne race.
Purchase will rejoin partner Mark Hunter, with whom he won lightweight double sculls gold in Beijing, as the duo look to turn their season around. With Purchase suffering from a suspected virus, they finished fourth in the World Cup opener in Munich in May.
The entire GB team then missed the following event in Hamburg because of fears over an E.coli virus alert in Germany.
Katherine Grainger and Anna Watkins are the top women's crew, aiming to defend their world title in the double scull.
World champion Houghton is one of five names in the frame for the women's quad, which won world gold in New Zealand last October. Melanie Wilson has substituted for Houghton while she has been sidelined.
Coach Paul Thompson will decide the final line-up for the quad after tests during training camps in Europe over the next few weeks.
Bartley must prove his return to fitness after injury but is likely to return to the lightweight four as they aim to defend their world title.
The crew won without him in Lucerne, as Coleraine's Peter Chambers acted as substitute, joining his brother Richard in the line-up.
Single sculler Alan Campbell, also from Coleraine, is back in the squad having missed Lucerne with a suspected virus.
Olympic qualification standards vary from event to event but most crews need to reach a World Championship final to qualify a spot for Great Britain in that boat class at 2012.
Great Britain will field crews in three of the four Paralympic events as Nick Beighton came through the "Battle Back" talent identification scheme to join Samantha Scowen in the double scull.
Beighton, an Army captain from Shrewsbury, lost both his legs when he stood on an improvised explosive device in Afghanistan in 2009.
Paralympic champion Tom Aggar aims to continue his four-year unbeaten run at international level in the arms-and-shoulders single scull.