Sir Steve Redgrave expects GB to shine at World Championships

By Sir Steve Redgrave
Five-time Olympic champion & BBC Sport summariser
Last updated on .From the section Rowing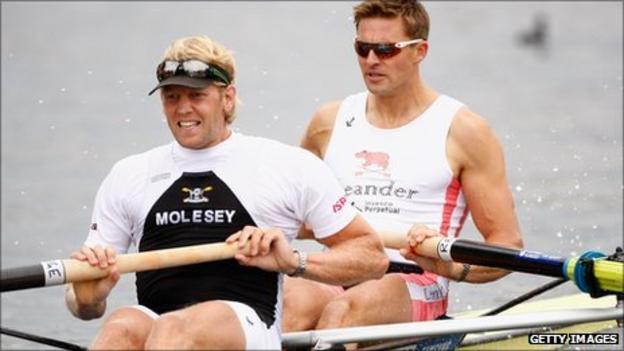 Ever since the Beijing Olympics, every rower on the British team has believed they can win medals at major championships.
They can't all win but it's a great attitude to have - there wasn't that belief when I started back in the 1980s.
The British team for the World Championships is very strong and it will be interesting to see if they perform as well as they did last year in New Zealand, because this is a qualifying regatta for the 2012 Olympics.
Most boats will qualify for London with ease and you can argue a case for every boat winning a medal in Slovenia, apart from the women's single.
But it's difficult to predict how they will then perform next year at the Olympics, because although the World Championships will provide a good guideline, that's all it is, a guideline.
Andy Triggs Hodge and Pete Reed are under pressure in the men's pair because they are our two best men and the best men's boat should win the best medal.
However, they are not doing that because they keep losing to the New Zealand pair, Hamish Bond and Eric Murray.
You can never say never, but the chances are the Kiwis are going to win once more because they have beaten the British pair time after time.
I haven't seen Pete and Andy try to do anything different to change that, instead, they have tried to do the same things better.
Because they got so close to winning last year, they believe on their day they can do it, but the Kiwis slaughtered them by seven seconds in Lucerne in July.
What makes it even more difficult from Reed and Hodge's point of view is that the men's four is performing outstandingly, so Britain's second boat is winning gold while the top ranked boat is winning silver.
British coach Jurgen Grobler's policy is to put the best people in the best boat. Will he put Reed and Hodge in the four? My gut feeling is yes but they might be passionate about beating the Kiwis and want to carry on in the pair.
If they are they should carry on, because if they do win Olympic gold next year, the 13 or 14 previous defeats they will have suffered will not matter.
If they do end up in the four, the two who lose their seat could move to the eight, meaning two lose out there.
One of the men who might be in danger is the veteran Greg Searle, who I rate as one of the most outstanding athletes British rowing has produced, along with Matthew Pinsent and myself.
Searle has an advantage over his rivals, in that his character helps the eight. He is light-hearted and one of the biggest kids in that unit, but he has to hold on to his seat on merit.
Although he has underperformed by only winning one Olympic gold medal [in Barcelona in 1992] during his career, he adds a lot because of his experience.
Greg and his brother Johnny beat Matthew Pinsent and I at the domestic trials in 1992 - we underestimated them and I was ill at the time - and he is the same competitve animal now that he was in those days.
But if the men's eight wants to win gold, they will have to beat the German boat.
In the lightweight double scull world and Olympic champions Zac Purchase and Mark Hunter have the ability, as we saw in New Zealand last year and Beijing three years ago.
However, Zac has been out ill and if their preparation has not been ideal they will be unable to compete at the level we know they can reach.
They are going in with a positive attitude though, and the most important thing is that they qualify the boat, so they don't have that hassle next year.
If they win, it will be fantastic, but if they don't they will still be favourites for Olympic gold next year.
The lightweight men's four are also the reigning world champions and have improved from their first World Cup outing of the season.
Their races tend to be close and they will be there or thereabouts. I won't be surprised if they win but so long as they are in the hunt I will be happy.
In the women's boats, Kath Grainger and Anna Watkins are settled in the double scull and should win, although if they need excuses, Anna has been suffering with a bad back.
I'm not saying that's a good thing but it's always good to have a reason, other than not being good enough, if things don't go well.
The lightweight double has been showing good form, while the quad are the reigning world champions and we've got the standard of girls to win again, but Ukraine have improved and are the favourites.
The women's eight need to finish in the top five to qualify their boat for the Olympics. There are only five spaces available in that event so just making the final for them is not enough.
However, it is enough in every other final and at last year's World Championships, Great Britain would have qualified all 14 boats for the Olympics.
That was an outstanding achievement and there is a chance of doing that again in Slovenia.
Sir Steve Redgrave was talking to BBC Sport's Peter Scrivener.