London 2012: GB rowing coach Jurgen Grobler to shuffle squad
Last updated on .From the section Rowing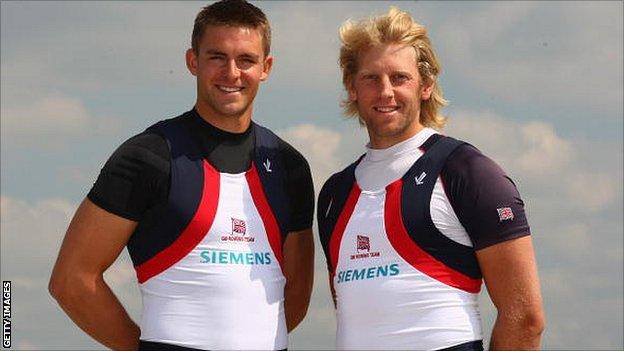 Team GB rowing coach Jurgen Grobler is to overhaul the men's squad ahead of the London Olympics, BBC Radio Berkshire understands.
Pete Reed and Andrew Triggs Hodge, who have been racing in a pair, are likely to move into the four in place of Matt Langridge and Ric Egington.
However, Hodge has insisted that no decison has been made, responding: "I can offically say it's far from done."
Grobler has 18 rowers in his squad but only 14 seats for the Olympic Games.
The GB trials take place on 10-11 March, ahead of the World Cup start in April, with Olympic selection in June.
Reed and Triggs Hodge are regarded as Grobler's strongest oarsmen but since the last Olympic Games they have been beaten 14 times in succession by New Zealand's Hamish Blair and Eric Murray, leaving the Britons with World Championship silver for three years in a row.
The pair were part of the gold-medal winning four in Beijing, along with Tom James and Steve Williams, and Grobler looks set to return them to that boat ahead of London.
However, moving Reed and Triggs Hodge into the four would dismantle the line-up of Egington, Langridge, James and Alex Gregory that won the world title last year and remained unbeaten throughout the season.
"There have been discussions [about selection], but among the athletes," Reed told BBC Sport last month. "Andy [Hodge] and I are very close. We've been together for a long time racing in boats together.
"It's only natural for us to talk about what our expectations are, especially after winning gold in Beijing and three years of silver medals in the pair.
"Right now, we've decided to concentrate on making ourselves as good as possible because whichever boat we're in, we need to make it as fast as possible and really chuck ourselves into that project with both feet."
Langridge, also speaking in January, told BBC Sport: "[I want to be in] the four. I did the eight in Beijing and was disappointed to not win gold, but I think I've set my sights on being in the four in London. That's my priority.
"I've been with the four for the last three years. I've really felt like I've been part of building that project going into London and I want to see it right through until the end.
"However, the eight is a great boat as well and although the four is the boat I'm aiming for, if I end up in the eight, I'd really relish the challenge. Getting silver in Beijing was disappointing so it would be nice to put that right in London."
Ivor Lloyd, managing director of Olympic venue Dorney Lake, told BBC Radio Berkshire: "[Reed and Hodge] were pretty much being eclipsed by the New Zealanders, so I think the amalgamation of the guys into four - and then the fall-out of the four into the eight and the restructuring of all the boats - is quite a major impact.
"I think that always takes very good management to make that happen because I think you have burn-out and fall-out along the way."