London 2012: Alex Gregory expects change in GB men's four
By Lawrence Barretto
BBC Sport
Last updated on .From the section Rowing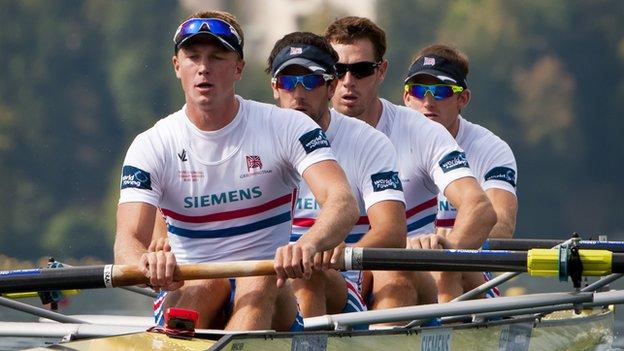 World champion Alex Gregory believes Andy Hodge and Pete Reed will be brought into Britain's flagship boat, the men's four, for London 2012.
But Reed and Hodge, who have been racing in a pair, look likely to replace two of them.
"The indication is probably that Andy and Pete will come into it [the men's four]," said Gregory.
Team GB men's chief rowing coach Jurgen Grobler has 18 world-class rowers in his squad and only 14 seats for the Olympics.
The GB trials take place on 10-11 March, with the World Cup starting in May and Olympic selection made in June.
The quartet of Gregory, James, Egington and Langridge were unbeaten in 2011 as they topped their year off with world gold in Slovenia.
Hodge and Reed, who were part of the men's four that won gold in Beijing, moved boats three years ago to compete as a pair. They have won three world silver medals, but they have also lost 14 consecutive races to the brilliant New Zealand pair of Hamish Bond and Eric Murray.
"Nothing has been decided yet," added Gregory. "We have to wait until the final trials in March.
"At the moment, the four will be the top boat [for Britain], and yes there's no question I want to be in the top boat."
But the 27-year-old conceded that despite the success of the current men's four, the team knows that no-one's place is safe.
"Last year, we had a perfect year," he said. "We won every race we entered.
"We would all have liked to carry on with the crew because in Bled [at the World Championships] last year I don't think we did our best race. I think if we had carried on, we could have found more speed in the boat.
"But that's just the way it is. We all expect things to change from year to year.
"Jurgen knows what he wants and he has the authority to change crews if he wants to. We're in his hands really."
The British men's four has won gold at the last three Olympics but Gregory said he relished the pressure that brings.
"We've had a run of three successive Olympic golds so to carry that record on would just be very exciting and something we all want to do," he added.
"That brings pressure, but I see it as a good thing. We put that on ourselves and we'll only be disappointed if we don't perform."
London 2012 would be Gregory's first Olympics after he travelled to Beijing as a spare - an experience he said was transformative.
"Beijing 2008 was a turning point in my career," said Gregory. "Up until then, I'd had some disappointments and I'd always been close to packing it all in after not seeing a result year after year for seven years.
"But being selected to go as a spare and sitting in stands watching the guys who I trained with and who are my friends made me realise why I do this sport.
"The year after, I swapped from scull to sweep as it felt like the right thing to do. It felt much more natural and I think I've reaped the benefits."