Matthew Pinsent hails Britain's rowers as world's best
By Lawrence Barretto
BBC Sport
Last updated on .From the section Rowing
Four-time Olympic gold medallist Matthew Pinsent has hailed Britain's rowers as the best in the world following the GB trials at Eton Dorney.
"We have the strongest rowing team in the world," Pinsent told BBC Sport.
"I think that's been proved by the performances in both the men's and women's event at the weekend."
Britain qualified 13 out of 14 boats for London 2012 after a record-breaking performance in the World Rowing Championships last year.
However, the battle for seats in those boats is still raging and the trials will go someway to helping men's chief coach Jurgen Grobler and women's chief coach Paul Thompson make those decisions.
"It's pretty thankless when you're out there [during the trials] because you're just racing against your team-mates, so there's actually nothing to win," added Pinsent.
"There's a lot of pressure at the trials and, in some ways, the selectors are wanting to see who crumbles under that pressure and who doesn't."
World double scull champions Katherine Grainger and Anna Watkins looked immune from pressure as they finished a comfortable one-two in the women's scull at the trials.
Similarly, Heather Stanning and Helen Glover, the world silver medallists, were dominant as they retained their title in the pair.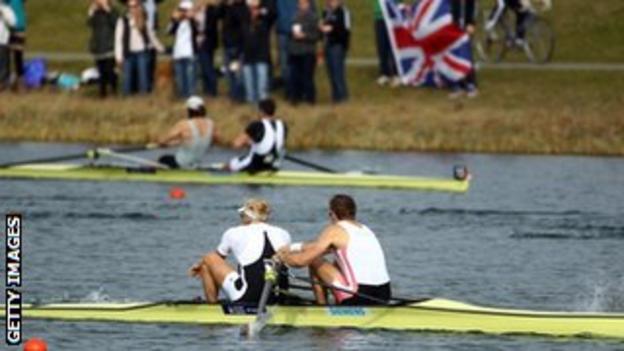 "I think the make-up of the women's side [of the team] falls out a lot easier because the established performers, Anna and Katherine particularly, have done very well," added Pinsent.
"Of the selection decisions, [the make-up of the women's double scull] is the easiest one. The top women's boat is going to be the double scull with Kat and Anna in it.
"Those two are probably going to form Britain's top medal chance at the Olympics and that's saying something because I think we've got some pretty strong boats otherwise.
"I think we're going to win more than one gold - and I hope we do.
"For me, it's most important Great Britain have a women's [rowing] gold medal at the Olympics for the first time and I can't think of a better two people for it to happen to than to Kat and Anna."
The decision on the men's side, however, isn't so easy. Especially as under-23 world champions George Nash and Constantine Louloudis have given themselves a chance with a brilliant third place in the men's pair at the trials.
"For the men's heavyweight rowers, the decision is difficult," added Pinsent. "It was a high quality men's pair event and it's clear Jurgen has got a wealth of talent."
"He has to decide how he wants his pair, four and eight, to look. I don't think that he's sure in his own mind yet. I think he's still got some tests to do.
"There were certainly some big results but they will probably decide who might be coming up into the eight."
This week, GB rowing coaches will carry out "seat racing", where they will race two sets of crews against each other and then swap rowers in those boats to compare times and individual performances.
The World Cup squad will be named on 4 April with three World Cup races to follow before the Olympic squad is announced on 6 June.
The Olympic regatta then begins 28 July at Eton Dorney and Pinsent thinks the venue will deliver a fantastic atmosphere.
"It will be really amazing," said Pinsent. "One side of the lake will have 5,000 people, the other 25,000, so the finish end of the lake will be an absolute cauldron of emotion.
"If you're standing here waiting to go out for your Olympic final, you'll see and hear an Olympic final coming towards you. It'll be great.
"It's just going to be a fantastic opportunity for our sport in this country in front of a home crowd."