Constantine Louloudis targets place at London 2012
By Lawrence Barretto
BBC Sport
Last updated on .From the section Rowing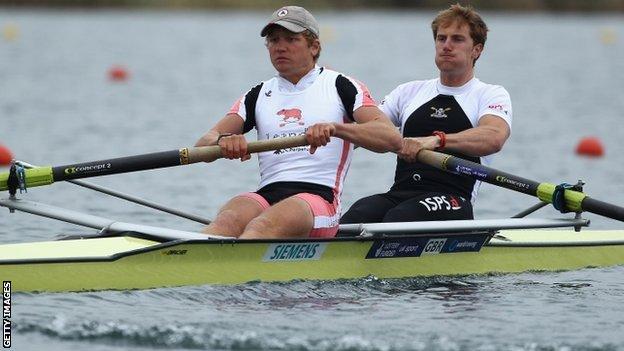 World under-23 champion Constantine Louloudis is targeting a place in the GB Olympic rowing team after impressing at the national trials.
The 20-year-old, along with crewmate George Nash, finished third in a high-quality men's pair final on Sunday.
"We want to be in the eight and make it as fast as possible," said Louloudis.
"On the basis of the result you can't say a seat in the four is out of the question, but from the outset I had eyes on the stroke seat in the eight."
He added: "[If I'm selected] it would blow everything else I've done out of the water."
Louloudis and Nash lost out to Pete Reed and Andy Hodge by half a length in Saturday's heats at the trials at Eton Dorney.
Hodge and Reed upped the pace in Sunday's final but Louloudis and Nash kept in touch, pushing the experienced pairing of Alex Partridge and Alex Gregory, who finished second, close and comfortably beating the three other pairings.
"We wanted to be in the top three, which was one step better than we did last year," Louloudis told BBC Sport. "We knew we had what it took to beat half that field in the A Final.
"George and I just wanted to lay down as strong a case as we could [for Olympic selection]. We really just want to go to the Olympics."
Last season was an impressive campaign for the 20-year-old, a former Eton schoolboy who began rowing at the Olympic venue itself in 2007.
Currently taking a break from studying Classics at Oxford University, he was the youngest member of last year's victorious dark blues crew in the Boat Race at 19.
He then teamed up with Nash to win gold in the men's pair at the World Rowing under-23 Championships and took a greater role in the men's senior team.
"It's a big step up coming into the seniors but I think we've done pretty well," said Louloudis.
"The start of winter training was tough for me and George. I remember getting home after the first day of training, which wasn't particularly tough, and just conking out on the sofa.
"But within a few months you pick up an aerobic base and start to build yourself up."
Louloudis's rapid rise has attracted plenty of attention, but he insists the pressure is not affecting him.
"Each pair is different but, for me and George, we don't really feel it's tough. We just take each race as it comes.
"We put a bit of pressure on ourselves but we don't feel anything other than that which we put on ourselves."