Boat Race 2012: Cambridge and Oxford seek boxing inspiration
Last updated on .From the section Rowing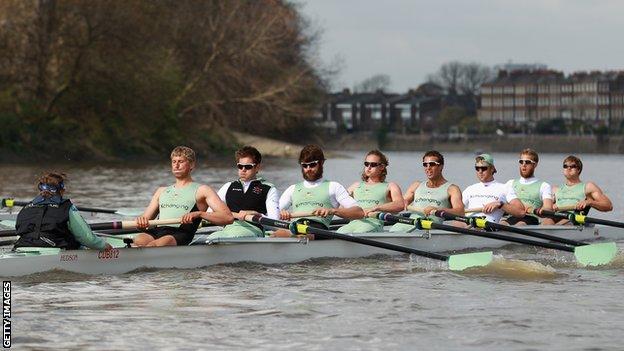 Underdogs Cambridge are seeking inspiration from Hollywood boxing film Rocky ahead of the 158th Boat Race.
Cambridge president Dave Nelson says he has spent the build-up to the annual event watching the 1976 film and wants his crew to adopt the winning attitude of Sylvester Stallone's character.
"There is a lot to be gained from that film, particularly the message 'You can go a long way with heart'," he said.
Defending champions Oxford are the favourites to retain their crown.
Dark Blues president Karl Hudspith said he has also drawn inspiration from boxing ahead of Saturday's four-and-a-half mile race on the River Thames in London.
"I watched the biographical film about Mike Tyson," said Hudspith.
"With Tyson, one of the things I was interested to see was how he prepares, walking up to the ring, all the things going through his head," he said.
"To begin with it was, 'This guy's going to beat me'. And then as he gets closer, he steps into the ring and he feels like a god, like no-one can touch him.
"That kind of stuff is something you can relate to."
A heavier boat is often deemed an advantage in the annual university battle between Putney and Mortlak, with Cambridge weighing in a massive 62.8kg heavier than Oxford.
But Oxford, who are lighter for the second consecutive year, are aiming to defy that logic again to maintain their recent stranglehold on the trophy.
Cambridge lead Oxford by 80 victories to 76 in the 183-year-old event, but have lost seven of the last 10 races.
Official crews for the 158th Boat Race
Cambridge: Bow - Moritz Schramm (91.8kg), 2 - Jack Lindeman (94.6kg), 3 - Mike Thorp (91.8kg), 4 - David Nelson (92.8kg), 5 - Alexander Scharp (95.6kg), 6 - Steve Dudek (109.6kg), 7 - Alex Ross (102kg), Stroke - Niles Garratt (92.2kg), Cox - Ed Bosson (55.6kg)
Oxford: Bow - Alexander Woods (77.8kg), 2 - William Zeng (82.4kg), 3 - Kevin Baum (91.6kg), 4 - Hanno Wienhausen (93.6kg), 5 - Karl Hudspith (91.2kg), 6 - Alex Davidson (94.6kg), 7 - Dan Harvey (79.6kg), Stroke - Roel Haen (96.8kg), Cox - Zoe de Toledo (49.6kg)