Coleraine trio race for GB in Belgrade World Cup regatta
Last updated on .From the section Rowing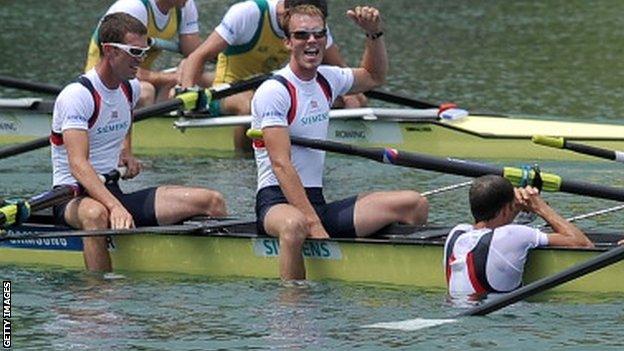 Northern Ireland's Olympic rowing hopefuls face an important weekend in their build-up towards London as they race at the Belgrade World Cup regatta.
Coleraine man Peter Chambers will race in the lightweight four event alongside his brother Richard in Serbia after being promoted to the British boat.
The same British four have also been picked for the two World Cup regattas after Belgrade.
Another Coleraine man Alan Campbell competes in the single scull in Serbia.
Campbell won world championship bronze in 2011 and is regarded as a strong medal contender for the London Games.
Peter Chambers has broken into the Olympic-class boat after winning world titles at Under-23 and senior level in the non-Olympic class lightweight men's pair last year with Newcastle's Kieren Emery.
"The media is building up and there's more in the papers now about the Olympics and it's nice to sometimes think about it," said Peter.
"We're quite good as a crew and individuals just to sort of stay on what is going on in the next couple of weeks.
"It's easier to think like that rather than the bigger picture," he said.
"We rowed together for a couple of weeks last year in the third world cup regatta [when they won gold in Lucerne] and it went quite well there and we seemed to be able to row quite well together so hopefully it will pay off."
"We're pretty relaxed at home and on the water," added Peter.
"I think out on the water is more tense and trying to get the best out of each other and our crew mates.
"And at home you don't really chat about it that much we're just laughing and joking about other things."
Greg and Jonny Searle were the last brothers to win an Olympic medal in the same boat, winning gold in 1992, and Greg is now back in the eights squad chasing a second gold 20 years later.
Richard Chambers acknowledges his pride at the Coleraine input into the British squad.
"Coleraine is not a massive rowing town," adds Richard.
"Alan Campbell started it off by breaking into the GB team. And now Peter and me.
"It raises the profile of the sport. I remember when the club only had one or two juniors and now it is thriving and taking bus loads of kids to regattas."