GB still have work to do for London Olympics says James Cracknell
By Lawrence Barretto
BBC Sport
Last updated on .From the section Olympics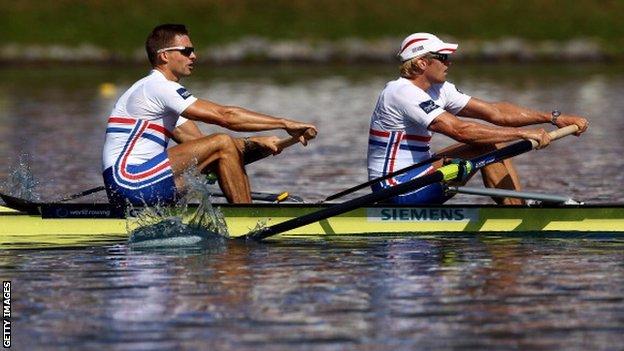 James Cracknell believes Britain have the strongest team in world rowing - but they need to step up another level to ensure big medals at London 2012.
Britain, who are racing in the first of three World Cups on Friday, topped the 2011 World Championship medal table.
Two-time Olympic champion Cracknell said: "The Worlds showed we are the strong team in world rowing.
"But the performance required to win at a World Championships is nothing compared to an Olympics."
He added: "The Olympics is the real test. It's the one race every four years where you have to get everything right."
With a little over three months until the Olympic regatta begins, Great Britain are sending a 57-strong team to Belgrade for the first three-day World Cup regatta of 2012.
"I've always been of the opinion that if you go there, you go there to race," said Cracknell, who will be part of the BBC team in Belgrade.
"There's no point going there undercooked, there's also no point going there overcooked. But there's only one race you want to be ready for and that's the Olympic Games.
"Yes, you want to win, but you don't want to do anything that will lessen the chance of you winning at the Olympic Games."
The men's four is Britain's flagship boat and an early favourite to win a fourth successive Olympic gold medal - but the boat has been given an overhaul by men's coach Jurgen Grobler.
Pete Reed, Andy Triggs Hodge and Tom James, who won gold in the four in Beijing, return alongside reigning world champion Alex Gregory.
"They're a new unit but you pretty much get 95% of your boat speed in the first week of rowing together and it's just that extra bit that may take a while to get," said Cracknell.
"They've got a decent field to race against in Belgrade. They have the boats that finished first, second, fifth and sixth at the World Championships so the British boys will have a good guide as to where they are.
"The Australians, who were third at the 2011 World Championships and have made the four their priority boat, are not there, so we'll have to wait to see how they go."
The men's eight has been shaken up, too, with Ric Egington and Matt Langridge coming into the boat along with Alex Partridge, Moe Sbihi, Tom Ransley, James Foad and 1992 Olympic champion Greg Searle.
Constantine Louloudis was selected at stroke, however a slight back injury means he will miss the Belgrade regatta with Nathaniel Reilly O'Donnell stepping in.
The boat won silver at the World Championships in 2011 but they were convincingly beaten by a dominant German outfit.
"The Germans are going to be in Belgrade so we can have a marker of where the new eight is in terms of performance," said Cracknell.
"The Americans and Canadians have selected their eight - and it's going to be their top boat - so it's going to be a different make-up of competition for our boys come the Olympic Games.
"But they've put themselves in the right position after getting a silver medal last year and they will want to turn that into gold this year."
Over in the single, world bronze medallist Alan Campbell is pursuing his dream of getting gold in the event.
"The single is tough because any country, no matter what their size, can find one fast rower whereas they won't be able to find eight really good people like Germany, Britain, Canada and America," said Cracknell.
"The single is dominated by New Zealand, Norway and the Czech Republic.
"Olaf Tufte from Norway has won gold at the last two Olympics and, though he finished sixth in the World Championships last year, he will step up for what will be his last Olympics.
"Alan will know that what he did last year to get bronze at the Worlds won't be good enough this year."