GB rower Tom James: Australia favourites for men's four gold
Last updated on .From the section Rowing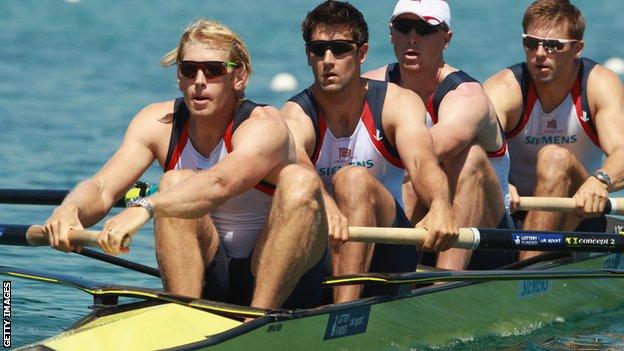 Rower Tom James says Australia are the favourites for gold in the men's four.
Main rivals Australia had earlier won their their heat by setting an Olympic record of 5:47.06 secs.
"They had a better performance in Munich than us in the last race, so technically they are still classed as favourites in the event," James said.
"But we are quite relaxed and just to keep doing what we are doing. There is no expectation that we have got to win the semi-final.
"It doesn't matter who we face because we have to race everyone at some point, whether its the semis or the final."
The British men's four arrived at the Games on the back of defeats by Australia in the semi-finals and final of the last World Cup event in Munich.
And the Aussies laid down the gauntlet by setting an Olympic record in their opening heat, taking 1.4 seconds off the previous best set by Germany in Athens eight years ago.
The British were comfortable all the way through their heat as they looked to respond to Australia's majestic display moments earlier.
"It shows they were very quick and had a really good race and controlled their event as well, but that is no surprise," Welshman James, defending the title he won in Beijing four years ago, said.
"I think both of us in the second thousand metres didn't really press on because we had a good margin of victory and there was no point.
"It is a really quick course. There has already been a phenomenal world record a couple of days ago, so it's no surprise Olympic records are being set in the heats already.
"We just have to be patient because we are doing the right things and, hopefully, we will have a good race."