GB rowing's London 2012 Olympic success inspires thousands
By Lawrence Barretto
BBC Sport
Last updated on .From the section Rowing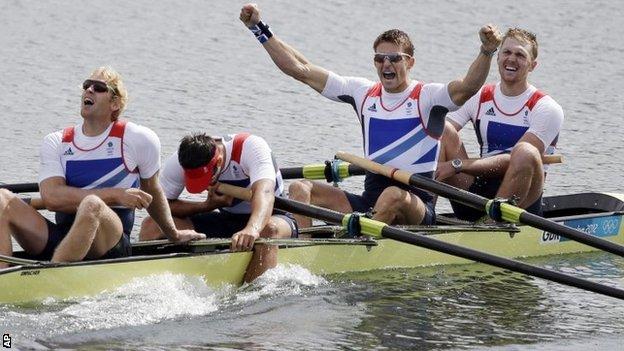 British rowing authorities say 32,000 people signed up for 'learn to row' courses around the country following the success of London 2012.
Of those, 1,000 were put forward for the Start programme, an initiative set up to find stars of future Olympics, with 350 put through their paces by GB rowing chiefs.
"It was encouraging to see the response, particularly from women," GB rowing performance director David Tanner said.
"In the past, the ratio of new members has been four men to one women, but this time it was three to two."
Given British rowers' impressive performances in London, the figures are perhaps unsurprising.
The host nation won nine medals at Eton Dorney this summer, with three of them - all of them gold - coming in the women's events.
"We waited 12 years for a first British female rowing gold and then three came at once in London," Tanner said.
"That's definitely had an impact and is encouraging for 2020. If we can build on that response, it will be an important legacy."
Tanner, 64, has been hard at work since London 2012 ended.
While some of his charges were busy celebrating following the Games, he was awake early in the morning each day to train the team's juniors.
He also recently flew to Rio de Janeiro with members of the British Olympic Association to begin planning for the next Games in 2016.
It will be tough to emulate the achievements of 2012 where Britain qualified all 13 of their boats to A Finals on their way to topping the rowing medal table, but Tanner is confident.
"There's no doubting our team peaked at the London Games," he said. "We enjoyed an enormous amount of success, but things can always be better - and that's the challenge for Rio.
"There are going to be those who want to hang up their oars, those who need a break before getting on the road to Rio and many who simply want to get on with it.
"A good number are coming back, which is pleasing, and encouragingly, there are many youngsters coming through battling for places on the senior team.
"I was out with the team in Varese, Italy, last month for the European Championship and it was encouraging to see a young team, which didn't feature any Olympians, come away with five medals."
Three-time Olympic medallist Greg Searle has announced that he will retire from the sport, while Katherine Grainger, who won silver three times before claiming gold with Anna Watkins in London, has yet to make up her mind.
But any departures will simply give the likes of Olympic medallists Kat Copeland, Constantine Louloudis and George Nash - who are all aged under 23 - the chance to step up and lead the team.
After four years of gruelling training, Tanner gave his Olympians some time off after London so that they could spend time with their families, have a holiday and make the most of the perks that come with being an Olympic medallist.
For some, the rest was welcome. "The build-up to London was so intense that it was a relief to get the chance to just do normal, everyday things," said Alex Gregory who won gold in the men's four with Pete Reed, Andy Triggs Hodge and Tom James.
For others, a return to training couldn't come soon enough. "When the weather was nice in September, I headed out onto the water by myself and it was just a great feeling to be able to do that because I wanted to," said Copeland, 21, who won gold with Sophie Hosking in the women's lightweight double sculls. "I could just enjoy it."
Each rower will have his or her own bespoke programme during the next Olympiad. For Copeland, she is already back in full-time training as part of the British set-up and will continue on that path - barring injury - until Rio 2016.
Heather Stanning and Helen Glover, who won Britain's first gold medal at London 2012 when they triumphed in the women's pair, are taking a different approach.
Glover is back in training, but in a single, while Stanning has re-joined the army and will serve a year - with a period likely to be in Afghanistan - before returning to begin preparations to defend her title.
George Nash, who won bronze with Will Satch in the men's pair, is on a combined academic and rowing training programme at Cambridge for the next season.
Tanner remains unconcerned that some of his strongest rowers are taking a year out.
"We will take some new members to the World Championships in 2013 and they will have to step up," he said.
"If they do, we'll have the healthy situation where when those who have taken a year out decide to carry on, they will have to fight for their place."
It's that kind of competition which could inspire Britain's rowers to even better things in 2016.