Alex Gregory, Olympic rowing champion, on his return to training
By Alex Gregory
British Olympic gold medallist
Last updated on .From the section Rowing
I felt like I had been hit by a train. I couldn't walk the next day. I was shaking, it was like I had the flu. It was awful. That's how I felt after doing my first weights session after two months off following London 2012.
Since Pete Reed, Andy Triggs Hodge, Tom James and I won gold in the men's coxless four at Dorney Lake back in August, I've been so busy that I've barely seen a rowing boat.
Instead, I've been very lucky to have been invited to so many events - like the Pride of Britain Awards, the London Lifestyle Awards, X Factor and a screening of the latest James Bond movie, Skyfall. I even got to meet the Queen, which was cool.
One of the best things I did was take part in a dance video for Children in Need. We only had two minutes to learn the moves to Beyonce's Single Ladies, so I forgive anyone for thinking we had been practising for months.
The choreographer was particularly impressed with Tom's hip movements, which was of great amusement to the rest of us.
The break has also given me the chance to spend some proper time with my family - I've got a little boy called Jasper who keeps me busy - and just do normal, everyday things.
The build-up to the Olympics was so intense. As a crew, we blocked the pressure out and controlled the nerves, but once we crossed that line it all came flooding in. I realised then how much pressure we'd been under and I was keen to have a mental and physical break.
To be honest, it's the longest break I've had in 13 years since I first started rowing and one my body really needed. Surprisingly, I didn't miss training. Some people feel like they need to go for a run or do an ergo, but I was fine just doing normal, everyday things.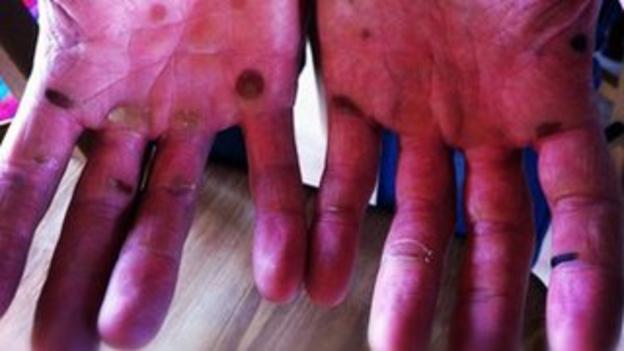 That's probably why my first weights session back hurt so much, but after a few days I was right back into it. I'm pretty lucky that I don't seem to lose much aerobic fitness, so getting back in a boat was all right.
I don't think I've changed since I won gold - I don't consider myself to be a celebrity either and almost feel uncomfortable at some of the events I get invited to. I'm certainly not recognised on the street. I mean, I was just the little man at the back of our boat. No-one could see me there.
My post-London plans were always clear, even before the Games. At 28, I feel young enough to carry on and like I've only just started enjoying the sport and achieving my potential.
So now that I'm back in training, my complete focus is on qualifying for Rio 2016 and winning another gold. If it was down to me, I'd probably aim to row in a different boat class - maybe try the pair or the eight - but that decision is down to head coach Jurgen Grobler.
Now I've got that gold around my neck, I've achieved my dream and everything I've worked so hard for. No-one can ever take that away from me. It can't be beaten, it can only be added to, but the motivation remains because I want more success. I want more gold medals.
The thought of carrying on for four more years is a daunting one, but it's not actually that bad. The years are broken down into small sections with the GB trials, the World Cups and the World Championships, so it passes by in a flash. Rio is a great Games to follow London. It's going to be awesome and I'm so excited.
Financially, it will be tough, because I train full-time. You can't do it any other way if you want to be Olympic champion. We do get lottery funding but I could do with a sponsor or two to make things easier and provide some security for my family. Hopefully, if I continue to be successful, the rest will follow.
For now, it's all about getting back into the routine of training with things really starting to ramp up after Christmas.
Alex Gregory was talking to BBC Sport's Lawrence Barretto. You can follow Alex on Twitter - @AlexGregoryGB