GB name experimental rowing squad for World Cup
By Lawrence Barretto
BBC Sport
Last updated on .From the section Rowing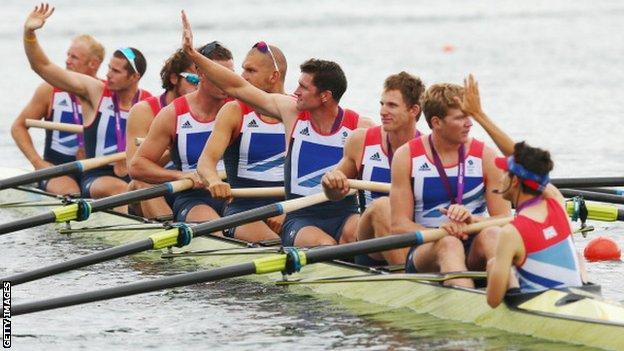 The GB Rowing Team has named a bold and experimental men's eight line-up for the first World Cup of the season.
Moe Sbihi, Tom Ransley and cox Phelan Hill retain their places alongside the returning Dan Ritchie and newcomers Lance Tredell and Matt Gotrel.
GB performance director David Tanner told BBC Sport ahead of the Sydney event: "This is the year to mix it up."
Sydney is the first of three World Cup regattas in 2013 and takes place from 22-24 March.
Olympic venue Eton Dorney will host the second World Cup meet in June.
Britain's rowers had a hugely successful London Olympics, winning nine medals - four gold, two silver and three bronze.
As a result, the sport was awarded £32.6m in funding by UK Sport - more than any other Olympic sport - for the four-year cycle to Rio 2016.
Those who competed in the Olympics were afforded the luxury of an extended break before returning to the squad, with many not returning until Christmas and others given a year off - including gold medallist from the coxless pair, Heather Stanning, who has returned to the army for a year.
This season, then, is a transitional year in which the management can start to bring in younger members of the team while continuing to work with the experienced members of the squad and assess boat combinations.
This is reflected in the team for Sydney, the first of three World Cups events used as preparation for the World Championships in Korea in August.
"I see Sydney as a way of getting people going," added Tanner. "It will get the team out of their comfort zone.
"The Australia and New Zealand teams will be in their summer and have just come off their national championships so they will be in peak form.
"It won't quite be the same for us but that's fine. It will be a good challenge. The World Cups will be fiercely competitive but they are a stepping stones to the World Championships. That's our focus."
Gregory told BBC Sport: "Change is good. The pressure is off slightly as it's the first year after the Olympics. We're hear to enjoy it. We're still out to win and we're training hard to be the best that we can be but we've got to enjoy it.
"The new guys in the squad has revived the feeling round here and I'm one of the old guys now. That's been a huge motivation for me. It's really fun to be part of at the moment."
The switch in the men's eight means there is a brand new men's four with Alan Sinclair, Scott Durant, Matt Tarrant and 2011 world silver medallist Nathaniel Reilly O'Donnell teaming up.
Elsewhere, Helen Glover, who, together with Stanning, became Britain's first gold medallists of the London Olympics, will remain in the women's pair.
However, she will race with a different partner for the first time in her career - Polly Swann, who missed a 2012 women's eight place after picking up an injury.
Glover will double up by also racing the eight, alongside Swann, Frances Houghton, Katie Greves, Beth Rodford, Jess Eddie, Vicky Thornley, Victoria Meyer-Laker and cox Zoe de Toledo.
Monica Relph, whose sister Pam won Paralympic gold last summer, will team up with Kristina Stiller, Rachel Gamble-Flint and Olivia Carnegie-Brown in the women's quadruple scull.
Graeme Thomas joins Olympians Sam Townsend, Bill Lucas and Charles Cousins in the men's quad, with newcomers Peter Lambert and John Collins in the double and Jonathan Walton in the single.
Richard and Peter Chambers, the brothers who won Olympic lightweight silver, have been split. Richard races in the double scull with Adam Freeman-Pask, while Peter returns to the lightweight four with Chris Bartley, Chris Boddy and Jono Clegg.