Anna Watkins: Olympic rowing champion is pregnant
Last updated on .From the section Rowing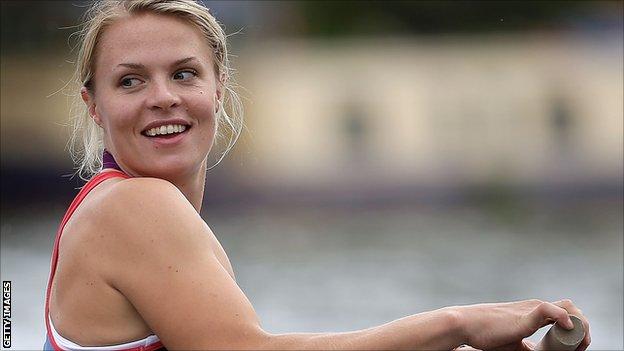 Olympic champion Anna Watkins has ended speculation that she might return to rowing in time for the coming season by announcing she is expecting a child.
Grainger herself is having a year out to finish her PhD and Watkins will join her in taking time off to have her first child in September.
"It feels like the right time," Watkins told The Sunday Times. "I'm really looking forward to being a mother."
Watkins confirmed the news on Twitter, writing: "It's true, I am expecting a baby in September. So excited!"
The double sculls champion admitted that a return to top-level rowing was "far fetched" but "not impossible".
"It has huge implications for my rowing career," Watkins added in the interview.
"It's anybody's guess what I'll be feeling like in the autumn. Right now it does seem far-fetched to come back but it's not impossible. Whatever comes next has to be a bigger challenge than the last one, whether that's doing a single scull or doing two events.
"Right now, the idea of staying at home with the baby is very attractive."
Speaking in December Watkins said she might be tempted to try and become Britain's first female single scull gold medallist in Rio 2016.
However, she also hinted that her future may not lie in the sport.
"I've thought about Rio a lot," she said. "I have achieved the goal that I set out to do now, and there's a wide world out there with lots of opportunities and different pressure and different excitement.
"I'm not complaining at all. I'm spoilt for choice and Rio is just one of the choices."