Britain's rowers set for first World Cup of the season in Sydney
By Lawrence Barretto
BBC Sport
Last updated on .From the section Rowing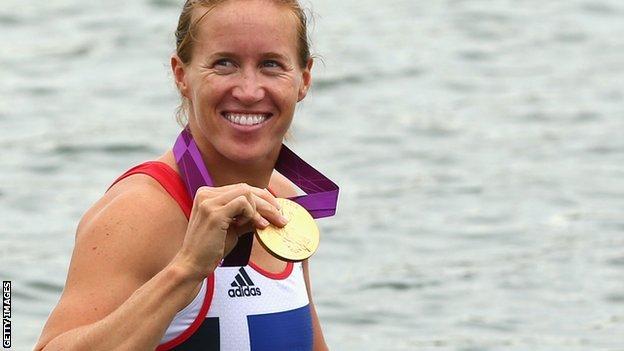 Britain's rowers will compete in their first major event since the London Olympics when the first World Cup of the season gets under way on Friday.
Sydney hosts the first of three World Cups as the squad build up to August's World Championships in South Korea.
Olympic champion Helen Glover, 26, told BBC Sport: "The big goal is to win gold at the Rio Olympics in 2016.
"But to do that, we need to be performing well at World Cups and World Championships along the way."
Britain have named a bold and experimental squad for the three-day regatta, which takes place at Penrith Rowing Lakes where Sir Steve Redgrave won his fifth Olympic gold medal in 2000.
Last month, GB performance director David Tanner said this was the year to "mix it up" and play around with combinations in each class, as well as bringing in some younger members of the team.
The men's eight has seen the biggest change, with Pete Reed, Andy Triggs Hodge and Alex Gregory, who won gold in the men's four in London, moving into the eight.
Moe Sbihi, Tom Ransley and cox Phelan Hill retain their places alongside the returning Dan Ritchie and newcomers Lance Tredell and Matt Gotrel.
Double Olympic champion Reed, 31, told BBC Sport: "There's lots of options, lots of enthusiasm and lots of potential to switch seats at this stage of the Olympiad.
"It will be tough to medal. The German men's eight were undefeated for the last Olympiad while the Australians and New Zealanders will be strong because they'll be race ready.
"They peak twice in a season, once before their national championships, which are just before this World Cup, and once for the World Championships."
Gregory, who flew out to Australia with the rest of the British squad on 6 March for a training camp in Canberra, admits many of the team are not yet at peak fitness.
"Honestly, we don't know what stage we're at compared to our rivals," said Gregory, 29. "We're probably not as fit as we'd normally be before a competition as we had a break after the Games.
"But saying that, we're all raring to get racing again, especially after such a strong Olympics so I think it will be a good start. So long as it's a stepping stone for next World Cup, and we leave there hungrier for success, that's the main thing."
The switch in the men's eight means there is a brand new men's four with Alan Sinclair, Scott Durant, Matt Tarrant and 2011 world silver medallist Nathaniel Reilly O'Donnell teaming up.
Elsewhere, Glover, who together with Heather Stanning, became Britain's first gold medallists of the London Olympics, will remain in the women's pair.
However, she will race with a different partner for the first time in her career - Polly Swann, who missed a 2012 women's eight place after picking up an injury.
"I've only ever rowed with Heather before so I didn't know what to expect," said Glover. "The new pair feels very different, which is not necessarily a bad thing.
"Heather and I were physically very matched up - we were the same weight and height - whereas Polly is a bit bigger than me. She's strong and can really row, so if we can match it up, we can do very well."
Glover will double up by also racing the eight, alongside Swann, Frances Houghton, Katie Greves, Beth Rodford, Jess Eddie, Vicky Thornley, Victoria Meyer-Laker and cox Zoe de Toledo.