Anna Watkins wants Grainger reunion if she returns to rowing
By Lawrence Barretto
BBC Sport
Last updated on .From the section Rowing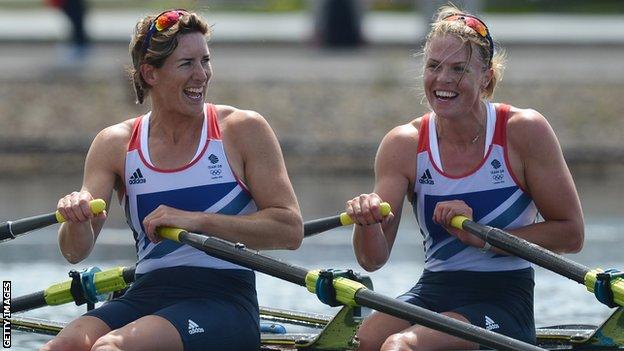 Olympic champion Anna Watkins wants to team up with Katherine Grainger in the women's double sculls again if she decides to return to rowing.
"We know that we're lucky to have the amazing partnership that we've got," Watkins told BBC Sport.
"So if we're both around, it would be madness not to do the double together."
She added: "If only one us continued, the single would be the obvious choice."
Watkins and Grainger, 37, dominated the women's double sculls event from the moment they formed a partnership in 2010, remaining unbeaten on their way to gold at Eton Dorney last summer.
After the Games, the British pair remained coy on their future in the sport but last month Grainger said she would take a year out before making a decision.
However, Grainger added that she believed the two of them could go even faster if they were to defend their Olympic title at Rio 2016.
Watkins echoed that sentiment but said she would base a decision on her rowing future on "instinct" once she had become a mother in September - something she says Grainger was supportive of.
"It was very important to tell her face to face because my pregnancy affects us both," said Watkins, who found out she was pregnant while away on holiday in South America in January.
"But she knows me inside out and she knew it was coming. We chatted things through, we're still really close friends and she's very happy for me."
Watkins said she will focus on working on her PhD in applied maths but will ensure she stays in shape during the pregnancy.
"Life was so busy after the Games and then I went away in January so now is the time to pick up my PhD again and get some momentum before September comes," she said.
"I'm definitely going to keep fit, just because it's a good idea. I don't want to close the door on the chance of going back - but I'm not in any way in a training regime like last year ahead of the Games."
Watkins also revealed that the pregnancy was something she "had been thinking about for a long time" and that she had spoken to women with children on the Australian rowing team at Eton Dorney.
"I'm a big planner," she said. "I like to find out all the information before making a decision. Speaking to the girls helped me think things through and I know there are plenty of options.
"There are millions of women who have to make the decision about whether to go back to work or not. Rowing is better than a nine-to-five job because it means I can do the school pick-up and be flexible.
"But I'd need serious help, be dependent on family and friends and need sponsorship to help with childcare - so it's a tough decision."
Watkins added that while competing in Rio was still a possibility she "wouldn't rule out the 2020 Olympics" as she would be "the same age as Katherine was in London".