Charles Cousins powers to single sculls victory over Alan Campbell
Last updated on .From the section Rowing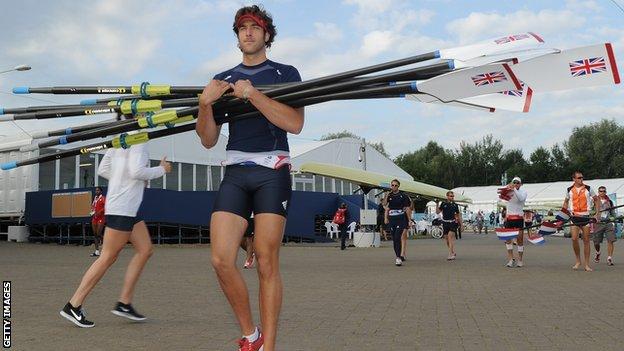 Charles Cousins pulled off a shock single sculls victory over Olympic bronze medallist Alan Campbell at the GB rowing team senior trials on Sunday.
Campbell, 29, led early on and looked set to take a record ninth successive men's singles title before Cousins eased past him in the final 250m.
"Let's not get carried away, it's only one race," said Cousins, a quadruple sculls rower at the London Olympics.
"I'm really happy with the win but it's a bit of a surprise really."
Helen Glover, an Olympic women's pairs champion with Heather Stanning, was also a surprise winner in the unfamiliar discipline of single sculling.
The 26-year-old held onto an early lead despite a strong challenge in the final 250m from twice Olympic quadruple scull silver medallist Frances Houghton.
"In that final 100m I just shut my eyes and went for it as I knew that Fran has a good sprint finish," said Glover, whose margin of victory was the narrowest of the day.
By contrast, Olympic men's four champion Andrew Triggs Hodge and Moe Sbihi, from last year's Olympic bronze medal eight, were emphatic winners of the men's pair ahead of Peter Reed and Alex Gregory.
Imogen Walsh justified her status as the favourite in the lightweight women's single scull, having already moved out to a strong lead before halfway.
"At that point the ego kicks in and you feel like winning by as much as you can but I kept telling myself not to be silly, no heroics, let's just complete the job," said the Inverness rower.
Coleraine's Peter Chambers took the lightweight men's single title ahead of last year's champion Adam Freeman-Pask and his older brother Richard Chambers, who came home third.
The results will provide interesting material for the coaching team in the coming weeks as seat-racing and crew formation takes place.
"We have had some great racing today and it is very healthy to see some new blood challenging for top places in the finals," said Sir David Tanner, GB rowing team's performance director.