Guernsey's Erica Bodman quits Great Britain rowing squad
Last updated on .From the section Rowing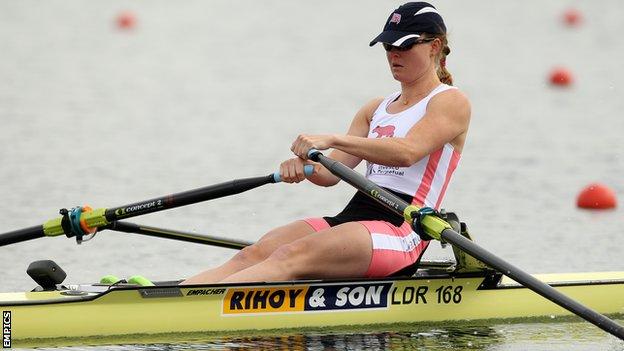 Guernsey's Great Britain rower Erica Bodman has announced that she is quitting the sport.
The 25-year-old says she has not improved in the past 18 months and has decided to end her career after a poor showing at last week's British trials.
"My heart just isn't in the sport anymore," Bodman wrote on her blog.
"My physiology has hardly moved on in the last 18 months and boat speed not picked up. I feel I am putting in a lot and not getting much return."
Bodman, who rowed for Cambridge and Leander Club, has represented Great Britain at the European Championships and World University Championships, having previously won gold at the 2007 Island Games as a high-jumper.
She was asked to race in a coxless four with the GB squad in the next few weeks and was preparing for seat racing with the national squad as she aimed for the World Cup event at Eton Dorney.
"I know that this moment may seem like the wrong time to leave, with seat racing just around the corner, but my coach asked me how I would feel if a coxless was selected for the World Cup which I felt I could have made, and I'd quit just a few days earlier," she added.
"I honestly can say I wouldn't feel like I'd let myself down.
"I'm tired of the training. I don't want to be rowing right now and I can only applaud those who do. I've lost the fire, the desire to improve and give myself to the sport.
"As an athlete, it is incredibly tough to accept defeat and say that you're done, you quit, but as people often say; when you know, you know."