Rowing: Zac Purchase hints at 'end of year' return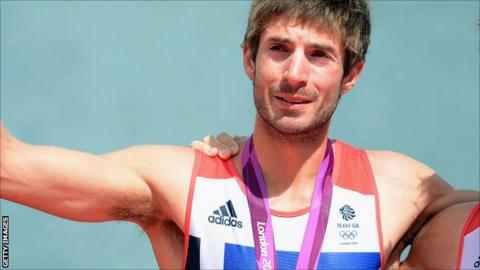 London Olympic silver medallist Zac Purchase has hinted he will return to the sport by the end of the year.
Purchase, who also won gold in Beijing, took an enforced break from the sport following his narrow defeat at last year's Olympics.
But the 27-year-old says although he has not put a date on his comeback, he has not yet called time on his career.
"It's a year out, it's definitely not retirement," Purchase told BBC Radio Berkshire.
Purchase, who is using his year out to get married and go on honeymoon, admits he needed a break from the sport and did not miss rowing during the winter months.
But he says his hunger is starting to return as he considers whether to compete at the Rio Games in 2016.
Before that though he will have to register by 29 September if he intends to compete at the start of the 2014 international season.
"My feeling going through the winter was quite positive," he said. "I was quite enjoying not being out on the boat and not being out on the water in the rain and fog.
"But now it's summer and I can see the guys out there on the track, there is a bit of a pull. I've got to contrast that with the amazing time I'm having not doing it. I'm a competitive guy, I can't do anything without being competitive so we have to wait and see what happens in the future.
"Officially the cut-off date is the 29 September which is exactly six months before the first international [event] of 2014. That is when I would have to sign up in terms of doing regulations and all that sort of thing.
"Ultimately I would look to be back in a boat before the 29 September but I'd have to be doing some work a lot of the time before then to be back to the levels of fitness I was before."
Purchase and lightweight double sculls partner Mark Hunter were narrowly beaten by Danish pair Mads Rasmussen and Rasmus Quist at Dorney Lake last summer during the London Olympics.
And he admits the heartbreaking nature of the defeat has made him think strongly about whether to compete in Rio.
"It's three years of being in that competitive environment and a lot of training and challenges and all that adds to the pressure and the stress of it," said Purchase,
"I don't want to go if I'm not going to win.
"I'm in it to win gold, and if I'm going to win silver I do not want to put myself in that position."