GB singles winner Charles Cousins sticks with quad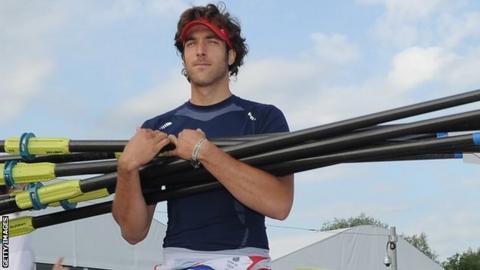 British Olympian Charles Cousins has said he has no plans to quit the quadruple scull, despite winning the singles at this year's national trials.
Cousins was part of the four-man boat that
But the 24-year-old was the quickest single sculler in April's trials, beating
"It's good fun doing the single but it can get a bit a lonely. And it's very tough, arguably one of the toughest," he told BBC Radio Cambridgeshire.
"It is literally just you out there on your own, battling the conditions.
"Long term I haven't thought about it a great deal. Maybe in a couple of years it might be something I look to do, but right now I'm pretty enthusiastic about the crew sculling."
Cambridge-born Cousins rowed with Stephen Rowbotham, Tom Solesbury and Matt Wells on the Eton Dorney water at last summer's Games, but secured a gold medal at a World Cup event in Sydney in March alongside a new-look team of Graeme Thomas, Bill Lucas and Sam Townsend.
And Cousins is aiming to remain part of the line-up for another tilt at a medal at Rio 2016.
"I'm proud of what I've done but ultimately I want a gold medal," he said. "I want to have another shot at it."
Britain dominated the rowing in London, taking home nine medals, including four golds, and Cousins believes GB has the quality to replicate that quality success in three years' time.
"It's going to be tough to match that, four gold medals is an incredible achievement," he added. "But there's a strong group coming through and there will definitely be medals in Rio."