Rowing World Cup: GB rowers in form ahead of Lucerne regatta
By Lawrence Barretto
BBC Sport
Last updated on .From the section Rowing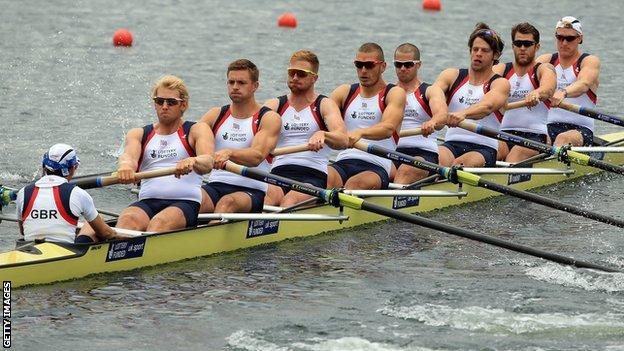 Britain's rowers will compete in their last major event before next month's World Championships when the Lucerne World Cup gets under way on Friday.
Olympic champion Alex Gregory told BBC Sport: "Lucerne is not as important as the World Championships in South Korea, but it's a close second.
"If you win there, it's gives you confidence going to the Worlds."
Gregory is a member of Britain's men's eight crew which came together for this season and is part of GB men's head coach Jurgen Grobler's plan to reinvigorate his team before attention switches to preparing for Rio 2016.
Stroked by Olympic champion Andy Triggs Hodge, the crew broke the course record at Henley Royal Regatta last Sunday, which follows gold medals at the first two World Cups of the season in Sydney and at Eton Dorney.
A third World Cup gold in Switzerland would reinforce the notion that this year is their best-ever chance of winning Britain's first World Championship gold medal in the eight-day regatta, which begins on 25 August.
Gregory, who missed the World Cup at Eton Dorney with a virus but will be back in the boat along with Hodge, Pete Reed, Tom Ransley, Dan Ritchie, Will Satch, Mo Sbihi, George Nash and cox Phelan Hill, added: "The boat feels better than it has done all year.
"After Dorney, George Nash came into the boat, as he was available having finished his exams at Cambridge, and I was feeling much better so I was moved back in.
"George has had a big impact - it's really good to have him in the boat. We've had a big breakthrough and it feels like we're really progressing, so hopefully that can continue for the rest of the season."
There will be a second GB men's eight competing as part of a development project. Young, emerging rowers will be given the opportunity to experience top-level racing.
Olympic champion Helen Glover and Polly Swann, who won gold in both World Cups so far this season, will compete in the pair, while Vicky Meyer-Laker and Frances Houghton will race in the double following their win on Dorney Lake.
Britain will also field a women's eight for the first time since Sydney, comprising of Beth Rodford, Zoe Lee, Sarah Cowburn, Melanie Wilson, Katie Greves, Louisa Reeve, Jessica Eddie, Olivia Carnegie-Brown and cox Zoe de Toledo.
With World Championship qualification at stake, racing starts on Friday with heats and some repechages. Semi-finals and more repechages follow on Saturday with the medal races on Sunday.
"Lucerne will be our toughest test in this post-Olympic season, with a strong entry and World Championship selection at stake," said GB Rowing Team performance director Sir David Tanner.
"It's a great chance for our rowers to step up again after a solid season so far."
Find out here who is in Great Britain's full squad for Lucerne.