World Rowing 2013: British rowers given target of four medals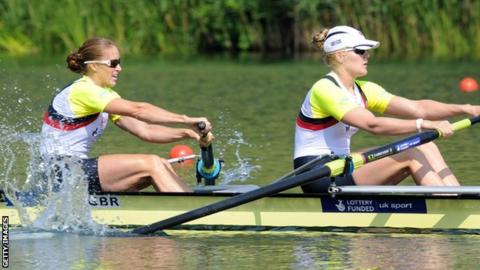 WORLD ROWING CHAMPIONSHIPS
Venue:

Chungju, South Korea

Date:

25 August - 1 September

Coverage:

Daily reports on the BBC Sport website. Saturday, 31 August: Live on 5 live sports extra at 06:45 BST and BBC Red Button at 07:00 BST, highlights on BBC One at 15:00 BST. Sunday, 1 September: Live on 5 live sports extra at 06:45 BST and the BBC Red Button at 07:00 BST, highlights on BBC Two at 14:30 BST.
Great Britain's rowing team are targeting at least four medals at the World Rowing Championships, which start on Sunday in Chungju, South Korea.
Britain won nine medals at London 2012, but the team are going through a transition in post-Olympic year.
GB women's coach Paul Thompson told BBC Sport: "We are in a healthy position. I think we're in a stronger position this year than in 2009 after Beijing."
Britain have sent a 58-strong team, competing across 19 boat classes.
Men's head coach Jurgen Grobler is looking for "a minimum of two medals - but it could be five based on potential", while Thompson has set the same minimum target for the women.
"Helen Glover and Polly Swann are going to be leading the way and the lightweight double [Kathryn Twyman and Imogen Walsh] can challenge for a strong medal," said Thompson.
"The women's eight could possibly swing something, too."
Should both the men and women match their minimum targets, the team total would be well down on 2011, when they topped the medal table with 12 medals, including five golds.
In the 2009 World Championships, a year after the Beijing Olympics, GB won seven medals, just one gold, to finish sixth in the table.
Grobler said: "I'm optimistic because we have really good guys. If you look at the three World Cups this season, we have won medals in every Olympic class so it shows we are up to standard."
Several of Britain's Olympic medallists, including Greg Searle and Sophie Hosking, have retired since London 2012 while a number, such as Olympic champions Katherine Grainger and Anna Watkins, have yet to decide whether to return.
As a result, the coaches are using this year to bring younger rowers in early in the Rio 2016 cycle, while giving the returning Olympians new motivation by moving them into different classes.
Britain's best hope for a gold medal at the eight-day regatta will be Glover, 27, and 25-year-old Swann in the women's pair. The duo are unbeaten since forming a partnership at the start of the year, winning at three successive World Cup meets.
Twyman and Walsh, another new crew for 2013, have a strong chance of a medal in the lightweight women's double, having won bronze in the Sydney World Cup and silver at the next regatta at Eton Dorney.
Grobler's squad, meanwhile, indicates his desire to end Britain's wait for a World Championship gold medal in the eight and a medal of any colour in the quad.
The 67-year-old has decided to stick with an unchanged line-up in the men's eight - which includes Olympic champions Andy Triggs Hodge, Pete Reed and Alex Gregory - despite the crew failing to win a medal in the last World Cup in Lucerne.
The Chambers brothers - Richard and Peter - have a good chance of a medal in the men's lightweight double, having won bronze in Lucerne.
Britain are sending two crews for the Para-rowing competition with Beijing Olympic champion Tom Aggar, who won gold at the Eton Dorney World Cup, competing in the arms-shoulders single scull.
The legs-trunks-arms mixed four features two of the defending Paralympic champions - Pamela Relph and Naomi Riches - along with newcomers James Fox, Oliver Hester and cox Oliver James.
The heats in Chungju begin on Sunday, with repechages - a second opportunity for crews to reach the semi-finals or finals - starting on Monday. The first of the medal races are on Thursday, 29 August.