World Rowing 2013: GB men's eight line-up a gamble - Hodge
By Lawrence Barretto
BBC Sport
Last updated on .From the section Rowing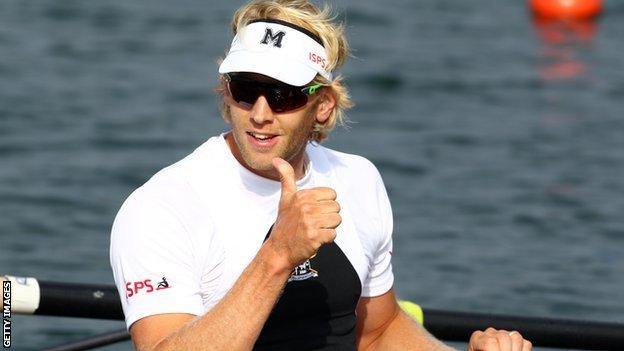 Double Olympic champion Andy Triggs Hodge believes the decision to put all Britain's best rowers in the men's eight is "risky, but exciting".
Men's head coach Jurgen Grobler made the call to make the eight, rather than the four which won Olympic gold in London, his priority for 2013.
The crew did not win a medal at the last World Cup, but Grobler has stuck with them for the World Championships.
Hodge told BBC Sport: "Jurgen wants to prove the British squad has depth."
The men's eight begin their World Championship campaign in South Korea on Monday in the heats, with Olympic champions Germany plus the United States their main rivals for gold.
Grobler, 67, has one of the most impressive records in sport, winning a gold medal in each of the last 11 Olympics, starting in 1972.
After a successful coaching career in Germany, he came to the UK to start working with the British squad. Since then, he has won six Olympic golds and 11 World Championships golds.
The men's eight is considered to be the blue riband event in rowing, but during his time with the GB squad Grobler has made the four his priority, with impressive success.
James Cracknell, Tim Foster, Steve Redgrave and Matthew Pinsent won gold in 2000, with Steve Williams and Ed Coode joining Pinsent and Cracknell in 2004 to repeat the feat.
Tom James, Pete Reed and Hodge joined Williams in 2008 to take gold with Alex Gregory replacing Williams in 2012 to make it four on the trot.
But for the first time in his career, Grobler has now made the eight - which won bronze in London - his priority, moving Reed, Hodge and Gregory into the boat, alongside Dan Ritchie, Tom Ransley, Mo Sbihi, George Nash, Will Satch and cox Phelan Hill, as he targets a first world gold for Britain in the class.
"Jurgen has got this dream," added Hodge, who won gold in the crew at the first two World Cups of the season, although the fields were relatively weak. "He wants to try the eight out. In training, we're showing an enormous amount of potential.
"But as the World Cup in Lucerne showed us - it's still just potential. We've not yet been able to convert it. But it's a huge opportunity for us.
"I know everyone in the crew is fighting so hard for this and they have the confidence that we can succeed. If we don't win gold, you'll see a lot unhappy faces. It's an exciting project - risky, but exciting."
While Grobler has kept the same eight that failed to win a medal in Lucerne for his crew in South Korea, he made some positional changes at this month's training camp in the Alps.
Satch and Nash, who won bronze at London 2012, were moved to the stern, and according to Olympic champion cox and BBC commentator Garry Herbert, the boat "clicked from their first outing".
Grobler says he mixed the crews up to keep returning Olympians motivated, however he has not committed to keeping the men's eight in their current line-up beyond the World Championships.
"So far, the four has been our leading boat, but now its good they have a break and do something different, be in a bigger group and help some young athletes," Grobler told BBC Sport.
"At the moment, we want to develop athletes who can win medals. I wouldn't say our strategy every time will be to go with the eight.
"But we have high expectations for Korea. We don't want to go backwards. We want to be in the top two at least."