World Rowing: Alan Campbell through to single sculls final
Last updated on .From the section Rowing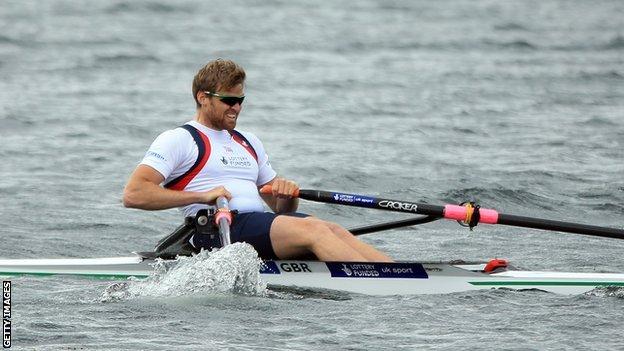 Olympic medallist Alan Campbell has qualified for Sunday morning's final of the single sculls event at the World Championships in Chingju, South Korea.
Coleraine man Campbell came home second in his semi-final behind favourite, Ondrej Synek of the Czech Republic, about a length and a half in arrears.
The race was around six seconds faster than the first semi-final.
Leonora Kennedy missed out on a final place in the women's double sculls after taking fifth in her semi-final.
Enniskillen woman Kennedy and her partner Monika Dukarska are competing in the women's double sculls.
They will now race in the 'B' final on Sunday as they attempt to achieve their goal of a top-10 finish in their first world championship.
A top four finish in the 'B' final would see them meet that ambition.
"I was pretty happy with my race but I did have to work hard for it," said Campbell after his semi-final.
"It was a shock to see our men's double not make their final but I used it in a positive way as it helped me to focus and not take anything for granted.
"I will give my best in the final and it will either be quick enough or not - a medal is my aim, silver or gold would be a bonus."
Prior to Friday's semi-final, Campbell had indicated that British team bosses are keen that he move to the double sculls.
The Northern Irishman, 30, won bronze at the London 2012 Olympics, with Synek taking silver.
"Last year there was a lot of pressure on me to do the double," said Campbell.
"I have to become a world champion [in the single scull] between now and the Rio Olympics."
Campbell believes that would give him the "best possible footing" to compete for Olympic gold in his favoured event in 2016.
He added: "Otherwise, I will probably be put in a position again to try and be pushed into a crew boat.
"These World Championships [in Korea] are important from that point of view."
Olympic champion Mahe Drysdale was surprisingly eliminated at the quarter-final stage of the event on Wednesday.
Campbell says the pressure exerted on him to switch boats played a part in the decision of his long-time coach Bill Barry to step away after last season.
He said: "He took a lot of the brunt because of the tension towards me last year. He took that on and he just said [after last season] that he wasn't prepared to go on and do that again.
"We still talk on a regular basis and in, some respects, he has moved from a coaching to a more mentoring role."
Campbell added the build-up to last year's Olympics was "quite difficult".
"I was the brunt of quite a lot of tension within the squad," he said.
"[Before the Olympics] was all about shutting down those outside influences and just focusing on myself and doing the job.
"This year there's been a little less tension because it's not the Olympics."
Campbell is now coached by John West and the Coleraine man said the new relationship is "working quite well".