Helen Glover expects tough fight for Rio 2016 Olympics places
Last updated on .From the section Rowing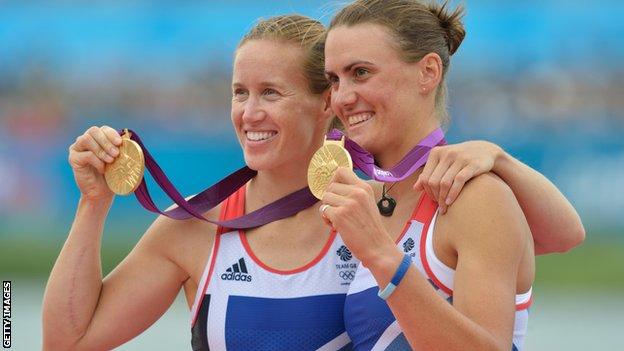 Olympic and world champion Helen Glover expects a battle for places before Great Britain defend their women's pair title at the Rio Olympics in 2016.
The 27-year-old teamed up with Heather Stanning to win gold at London 2012 before the latter returned to the army.
Polly Swann then partnered Glover at the World Championships, in South Korea in August, as Britain triumphed again.
Stanning wants to return for Rio 2016, and Glover told BBC Sport: "Lots can change in the next three years."
She added: "The coaches will do lots of trials and lots of tests."
After her Olympic and World Championship victories, Glover's place in the team seems assured, though she is taking nothing for granted.
But should she remain in the boat, the Cornishwoman hopes her success in the past 13 months will allow her a say on who she partners.
Glover, who has taken a three-week break after victory in Chungju last month, says both Stanning and Swann have their qualities.
"For me, I just need to keep my seat and, whoever is in the boat with me, fingers crossed it will be a fast boat," she said.
"Now that I have the golds backing me up, my opinion will be heard.
"But they are great girls and anyone who will be in the boat will be fast, so I won't have too much of an opinion."
Glover admits she is unsure how close friend Stanning, 28, will re-adapt to rowing after her stint in the army.
"That's the thing nobody knows," she said. "It's going to be really interesting.
"She's a natural athlete so if anyone can do it, she can. And she's single-minded."
On 25-year-old Swann, she added: "It was her first senior World Championships and she really stepped up to the mark. She's fantastic."
Whoever is in the boat in 2016, Glover says last year's Olympic success will be a distant memory.
"Winning at London 2012 keeps you motivated and I want to keep winning," she said.
"But come Rio, sat on the start line, all that will be forgotten. "