Naomi Riches: Paralympic rowing gold medallist retires
Last updated on .From the section Disability Sport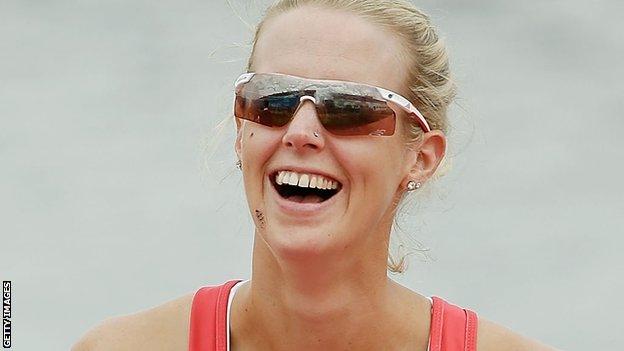 Reigning Paralympic and six-time world champion Naomi Riches MBE has announced her retirement from rowing.
Riches goes out on a high after winning her sixth world title at the 2013 Championships in Chungju, Korea in August in the mixed coxed fours.
The Marlow Rowing Club member also won Paralympics gold in the same event in London last year.
"I feel that I have achieved everything that I wanted to in the sport," the 30-year-old said.
"What better way to finish than on the high of a home Paralympic Games gold medal in London, followed by the world title?
"I want to give something back now and I am looking forward to my next career.
"I like the idea of going on to do something else and have new experiences and different experiences. I have experienced some amazing things in my life over the past decade in taking the sport from a non-funded set-up to a world-class level.
"It has been an amazing journey and it has been an honour to have been involved all this time."
Riches, who is registered blind, only began rowing seriously in 2004 and won her first world title later that year.
Her first taste of Paralympic success came at Beijing in 2008 when her mixed four crew won bronze and she feels after winning gold in her home Olympics, the time was right to go out on a high.
"It is emotional as rowing has been a huge part of my life for almost the last decade," Riches told BBC Radio Berkshire.
"To change my career and do something else is a little bit scary. I've got a lot of fantastic memories from the past decade.
"London 2012 was the most wonderful thing to be part of. I still love the sport but I know I am never going to recreate that feeling of winning gold in my home country.
"Racing at the World Championships earlier this year, I wanted to see how I felt in the final and while I felt amazing and proud that we had won and we had a superb race, it was never as good as winning in London and I don't think I want to try to chase that feeling again.
And she says she wants to pursue a new career where she can help others.
"I want to give something back - to be involved in things where I am helping other people do more with their lives.
"I'm excited to see the four next year and how they will go with a new combination and who will have the seat I have had for so long. Whenever you get a new person in a boat it changes the atmosphere of the boat and it is always interesting."