Alan Campbell aiming for gold at the European Championships
Last updated on .From the section Rowing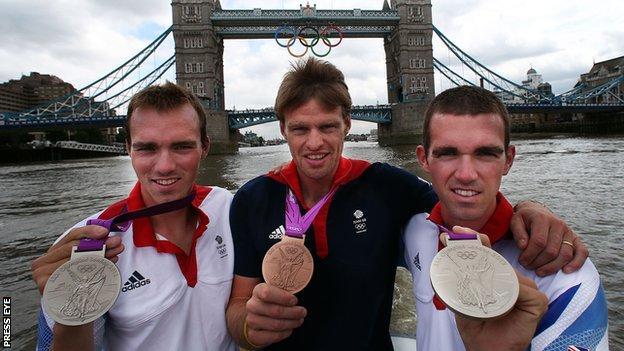 Alan Campbell says 2014 is "the pivotal year" for him to prove he should be the single sculler Great Britain take to the Olympic Games in Rio in 2016.
The Coleraine rower is named in the team for the European Championships, with Richard and Peter Chambers also included in the men's lightweight four.
Campbell is now fit again after minor surgery on his wrist in December and wants to make an impact in Belgrade.
"This is the make or break year for me, so there is added pressure," he said.
Campbell, who won bronze at the Olympic Games in London, finished fourth at last year's World Championships and was only third at the British trials in April, having missed a winter training programme due to tendonitis in his wrist.
Looking ahead to his first appearance at the European Championships, which begin on 30 May, Campbell told BBC Sport NI: "I think I've got to prove I am capable of being a world champion and in doing so prove I am capable of going forward to being an Olympic champion".
"In the singles it's a big ask but this is the make or break year for me in terms of going forward as a single sculler.
"It's one of those things where I should have done it already so there is a sense of urgency.
"Questions will be raised if I can't come forward this year with a performance which is the gold, or pushing for the gold at the very least."
Coleraine brothers Richard and Peter Chambers are joined in the lightweight fours by Chris Bartley, who they won a silver medal alongside at the Olympic Games in 2012.
Mark Aldred is the newcomer in the boat and Richard Chambers is focused on making his first appearance at the European Championships a winning one.
"In the rowing world it might not seem like a massive thing but in Great Britain it's quite a big thing to be known as a European champion, so for us it's a really important regatta.
"GB are sending very strong boats and we're going out to do the best job we can. We want to win it. That's all we're aiming for."