Chambers brothers win silver in European Championships
Last updated on .From the section Rowing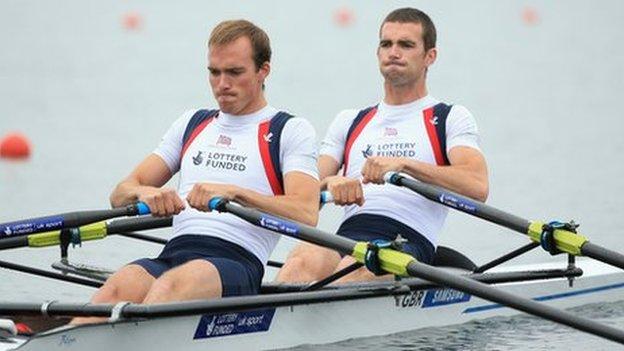 Coleraine brothers Peter and Richard Chambers secured a silver medal in Sunday's lightweight four final at the European Championships in Belgrade.
The GB quartet held off France to come in over two seconds behind defending champions Denmark at Lake Sava.
Fellow Coleraine rower Alan Campbell finished last in the single sculls final, won by Ondrej Synek.
Enniskillen's Leonora Kennedy and Lisa Dilleen were a very creditable fourth place in the women's pair final.
The Ireland duo, in their first major regatta together as they begin their 2016 Olympic campaign, held fourth place throughout the race, finishing in a time of 7:12.420 and missing out on a bronze medal by less than two seconds to the Netherlands.
The race was won by Great Britain's world champions Helen Glover and Polly Swann (7:03.470) who were well ahead of Romania in second.
The Chambers brothers, alongside Chris Bartley and Mark Aldred, were always chasing the Danes, who controlled the race from start to finish.
The GB boat pulled away from France in the final 500m to win silver, with the gap to the Danes around a length.
It was the first international outing for the Chambers brothers in the four since the London 2012 Olympic final, after a season in the lightweight double sculls.
Campbell was off the pace in single sculls final, finishing a distant sixth behind Synek from the Czech Republic, who defended his European title.
The Olympic bronze medalist started off strongly and was third at 500m, just 0.16 behind Synek but he slipped back down through the field throughout the rest of the race and was eight seconds adrift at the finish.
This result may raise questions over whether Campbell should continue in the single sculls or perhaps consider moving to a different boat moving forward to Rio 2016.
Ireland's Sanita Puspure produced her best ever performance to claim the bronze medal in the the women's single sculls final.
Puspure, who represented Ireland at the London 2012 Olympics, missed out on silver by 0.02 seconds.