Heather Stanning returns to GB team for Rowing World Cup
By Lawrence Barretto
BBC Sport
Last updated on .From the section Rowing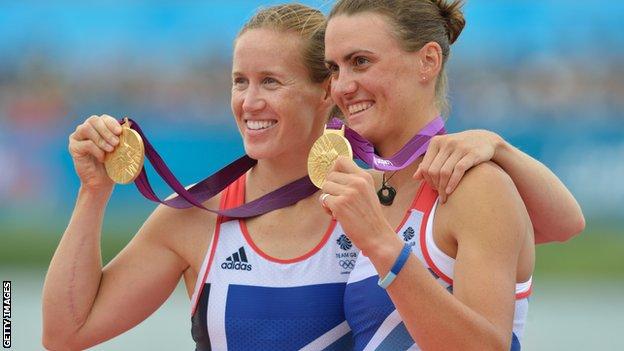 Olympic champion Heather Stanning says she feels fit and healthy and has her confidence back after being paired with Helen Glover for the next World Cup.
Stanning was withdrawn from the team for the European Championships after showing signs of fatigue and Glover went on to win gold with Polly Swann.
However, rowing chiefs were pleased with Stanning's recovery and have put her back in the boat for Aiguebelette.
Stanning told BBC Sport: "I'm so pleased. That was always the plan."
Stanning completed a six-month tour of Afghanistan last year and kept up her fitness with two sessions a day in the gym.
She returned to rowing last November and came out on top in the tests for her stroke seat in the women's pair before going on to win the British trials with Glover in April.
However, it became clear she was struggling to hit the top intensity, something which she now admits was down to overtraining on her return to the sport.
GB rowing bosses reduced the intensity of her training programme over a four-week period and choose to withdraw her from the Europeans so she could recover.
"It's given me a lot of confidence again," added Stanning, who won Olympic gold with Glover in London. "I had a confidence shock. I thought I had been doing everything right and then I started to show signs of overtraining.
"It knocked my confidence quite a bit but for me to go and concentrate on things myself for four weeks was really good.
"I suddenly realised I felt so much fresher even though I was doing more mileage then before. I just needed a bit more time for my body to adapt and I am feeling better everyday.
"I'm excited to be back racing in international competition."
GB women's coach Paul Thompson added: "On all the parameters we were testing, the data showed Heather was responding well and the boat is responding well - it's going fast.
"Polly and Helen had a great race and it was fantastic for them to become European champions, but it didn't really change what had been laid out before.
"We want to see what Helen and Heather can do at this World Cup and we will review after that."
The second World Cup regatta of the season - but the first which the GB rowing team will enter - starts on 20 June in Aiguebelette, France.