Alan Campbell fails to reach semi-finals at World Rowing Cup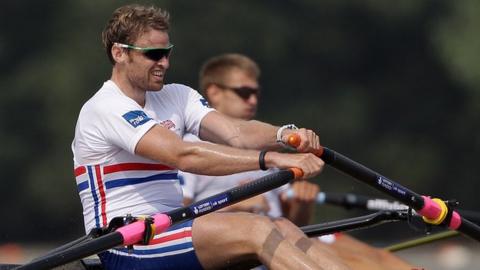 Coleraine's Great Britain rowing team member Alan Campbell has failed to reach the semi-finals of the Single Sculls at the World Cup in Lucerne.
Campbell finished fourth in his quarter-final at the regatta in a time of 7:06.82 on Friday afternoon.
Roel Braas of the Netherlands won in 7:03.73, with Romania second and Canada third, all three going into the semis.
Peter and Richard Chambers won their Lightweight Men's Four heat to progress to the semi-finals on Saturday.
The Coleraine brothers helped win Friday's heat for Great Britain in a time of 6:07:34, narrowly pipping the French by just 0.36 with the Italians a distant third in 6:15:67.
Campbell had won his heat in 7:07:84 on Friday morning, but now has to settle for competing in some of the minor finals.
Campbell finished almost three seconds ahead of Israel's Dani Fridman on Friday morning, with Bulgaria's Stanislau Shcharbachenia in third.
The Olympic bronze medallist had hoped to make up for the disappointment of failing to make the final of his class at the Henley Regatta last week.
Meanwhile Enniskillen's Leonora Kennedy and her partner Lisa Dilleen came in fifth in their heat in the Women's Pair event.
The duo, rowing for Ireland, now move forward to Saturday's repecharge.