Alan Campbell left out of GB team for World Championships
Last updated on .From the section Rowing
Olympic bronze medallist Alan Campbell has been omitted from the Great Britain rowing squad for next month's World Championships in Amsterdam.
The Coleraine man has been left out of the 66-strong squad, with performance director Sir David Tanner admitting "there's something not quite right" with the 2012 bronze winner at present.
"I'm devastated but I'll try to turn it around from here," said Campbell.
"I pleaded to be given an opportunity and I tried to fight it," he added.
"I have not felt like myself in recent events but with a bit of recovery time I believe I could have turned it around.
"It's very hard to accept - I've been told to go off and rest, recover and come back next year, but that wasn't in my plan at all so it's a hard pill to swallow.
"My results have been under-par this year but i don't know the answer as to how I've got into this position."
The 31-year-old won silver at the 2009 World Championships in Poznan and British rowing chiefs have backed the Northern Ireland man to return to form.
Britain will now head to Amsterdam with no one competing in the open men's single sculls, with the tournament running from August 24 to 31.
"Alan has not had his best season, he made the final in the Europeans, but he had a new baby arrive, and he didn't make the top 12 (at the World Rowing Cup event) in Lucerne," said Tanner.
"Our view is that there's something not quite right with Alan, and therefore he will not race in Amsterdam.
"We see him as taking some breath, he's not ill, we think something that cannot be measured is not right for him.
"We see him as very much still a candidate for the Olympics in Rio, but he won't race in Amsterdam."
British rowing chiefs have tipped Campbell to be revitalised by a break from competition and backed him to continue his fight for inclusion at the 2016 Olympics.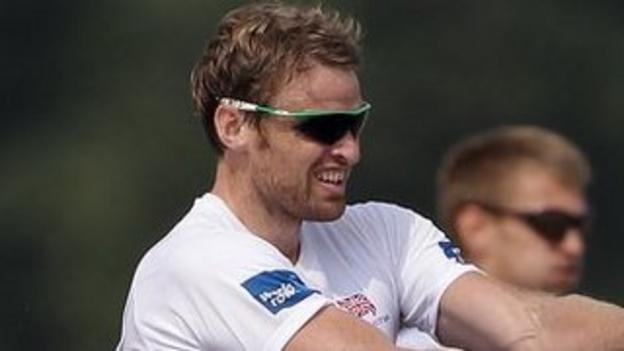 Chief men's coach Jurgen Grobler admitted four years of solo racing could have taken its toll on the man from Coleraine.
"He's been through tough times after the Olympics," said Grobler. "He didn't quite carry on in the same way.
"He came third this year in the national trials, so we can't measure why that is. Maybe it's that a single event took so much out of him in the last four years.
"From my experience from 44 years sometimes it takes longer to recover mentally and physically. Alan has done it: he has had some top times in the past.
"Nobody is too old, or too young. He has done it and shown good performances.
"But if people six or seven years older can do it then there's no reason why Alan can't.
"We have to draw the line now in his interest: I don't have the recipe to turn things around in five weeks.
"We tried everything, but right now he would be at an average performance level.
"Of course he will not totally agree, but in his interest he's too good to demonstrate, he needs a longer rest now and to start again.
"I still think he has the potential to return in the future."