GB's Frances Houghton out of World Rowing Championships
Last updated on .From the section Rowing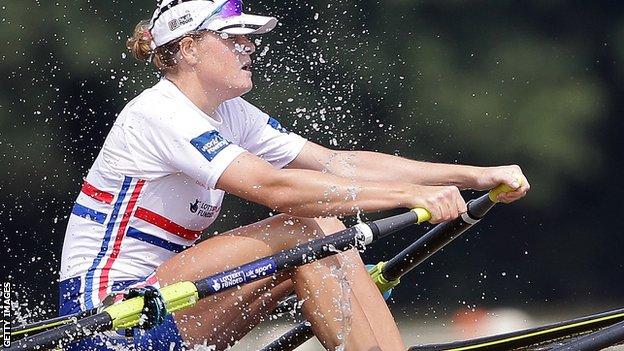 World Rowing Championships
Venue:
Amsterdam, Netherlands;
Date:
24-31 August
Coverage:
Daily reports on the BBC Sport website, live coverage on BBC Two on Saturday 30 August 12:15-14:15 and Sunday 31 August 12:00-13:45
Great Britain's two-time Olympic silver medallist Frances Houghton will miss this month's World Rowing Championships in Amsterdam because of illness.
But GB Rowing said Houghton has a virus and is not ready to race in the double sculls alongside Victoria Thornley, 26.
"This is a hugely disappointing end to what has been a very good year for me," said Houghton.
"Since joining the GB rowing team as a junior in 1995, this is the first time that I have missed a World Championships due to illness or injury, so it is a very strange feeling."
Thornley, who won the GB senior trials, will contest the single scull instead in Amsterdam.
The regatta runs from 24-31 August.
Full GB Rowing Team

Women's Pair

Helen Glover

Heather Stanning

Women's Eight

Rosamund Bradbury

Olivia Carnegie-Brown

Jessica Eddie

Katie Greves

Donna Etiebet

Zoe Lee

Caragh McMurtry

Louisa Reeve

Polly Swann

Zoe de Toledo (cox)

Women's Single Scull

Victoria Thornley

Women's Quadruple Scull

Kristina Stiller

Beth Rodford

Victoria Meyer-Laker

Lucinda Gooderham

Women's Spares

Monica Relph

Jessica Leyden

Men's Pair

James Foad

Matthew Langridge

Men's Coxed Pair

Alan Sinclair

Scott Durant

Henry Fieldman (cox)

Men's Four

Alex Gregory

Moe Sbihi

George Nash

Andy Triggs Hodge

Men's Eight

Nathaniel Reilly O'Donnell

Tom Ransley

Paul Bennett

Matthew Gotrel

Pete Reed

Constantine Louloudis

Matthew Tarrant

Will Satch

Phelan Hill (cox)

Men's Double Scull

John Collins

Jonathan Walton

Men's Quadruple Scull

Graeme Thomas

Sam Townsend

Charles Cousins

Peter Lambert

Men's Spares

Oliver Cook

Phil Congdon

Jack Beaumont

LIGHTWEIGHT WOMEN

Double Scull

Imogen Walsh

Kat Copeland

Quadruple Scull

Ruth Walczak

Eleanor Piggott

Brianna Stubbs

Charlotte Taylor

LIGHTWEIGHT MEN

Pair

Jonathan Clegg

Sam Scrimgeour

Four

Mark Aldred

Peter Chambers

Richard Chambers

Chris Bartley

Double Scull

William Fletcher

Jamie Kirkwood

Lightweight Men's Spare

Zak Lee-Green

PARA SQUAD

Arms & Shoulders Single Scull (ASM1x)

Tom Aggar

Arms & Shoulders Single Scull (ASW1x)

Rachel Morris

Legs-Trunk-Arms Mixed Coxed Four (LTAMix4+)

Pamela Relph

Grace Clough

Dan Brown

James Fox

Oliver James (cox)