Katherine Grainger: Olympic champion returns after two years
By Lawrence Barretto
BBC Sport
Last updated on .From the section Rowing
Olympic champion Katherine Grainger is back in training and considering a bid to compete at the Rio 2016 Games.
Scot Grainger, 38, told BBC Sport it had been an "agonising decision" and there were "big challenges ahead".
She added: "If I don't try, I'll always wonder 'what if?' and for me, that will be so much harder to live with."
Former partner Watkins expressed her delight at the news, but confirmed she is "unlikely" to join Grainger because she is pregnant with her second child.
Watkins had previously indicated that she would not compete in Rio.
Grainger's roll of honour
Olympic gold: London 2012 (double sculls)
Olympic silver: Sydney 2000 (quad sculls), Athens 2004 (coxless pair), Beijing 2008 (quad sculls)
World champion: double sculls 2010 & 2011; quad sculls 2005, 2006 & 2007; coxless pair 2003
GB senior trials: 1st (1998, 2001, 2004-10, 12) 2nd (2011)
A silver medallist at each of the previous three Olympics before London, Grainger was desperate to make it one step higher on the podium.
And she did so in dominant fashion, remaining unbeaten with Watkins from forming a partnership in 2010 to cruising to the Olympic double sculls title in the summer of 2012.
For the first time in a 15-year rowing career, she chose to take a break from the sport, completing a PhD in homicide and carrying out some television work with the BBC, before making a decision on her future.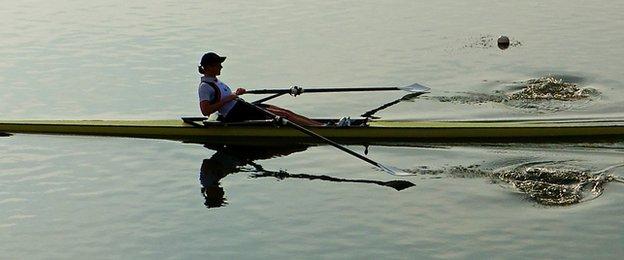 That was made harder when Watkins said she would not defend the double sculls title following the birth of her son.
GB rowing chiefs insisted anyone who wants to be considered for a place at Rio 2016 must report for training on Tuesday, 23 September.
And, after two years of deliberation, Grainger told them she would return to see if she can get in shape to win a medal at a fifth consecutive Olympic Games.
"I'm not really making long-term plans," she said. "A lot has to go well and fall into place. I have to get my fitness and my boat feel back and make sure I'm mentally where I want to be.
"The end point would be going all the way through to Rio, but I'm not making a commitment to that one just yet."
She resumed training on Monday with a 90-minute session on the water before rejoining the rest of the squad, who returned on Tuesday following a three-week post-World Championships break.
"Considering it has been well over two years since I've been in my single scull boat, my first session back was surprisingly OK," added Grainger.
The British Championships, at which rowers race in club colours, are the next event on the GB calendar but the first key marker of Grainger's progress will come at winter trials on 15-16 November at Boston.
It is too early to say whether Grainger will return to the double, the boat in which she won gold, or choose the single or quad.
Her return is a boost to the women's side of the GB rowing squad, who won just one gold medal at last month's World Championships compared to a record three at London 2012.