Daniel Topolski: BBC commentator Topolski dies aged 69
Last updated on .From the section Rowing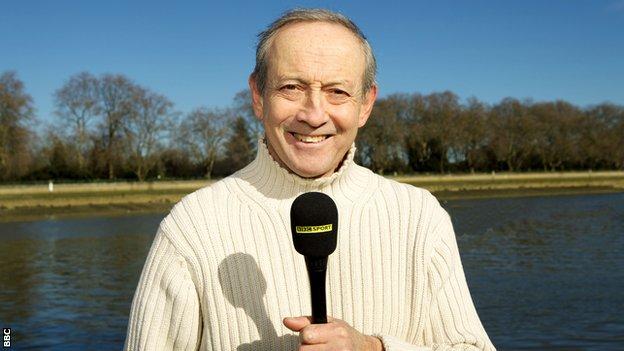 Former Oxford rowing coach, author and BBC Sport rowing commentator Daniel Topolski has died aged 69.
A former Oxford blue himself, he established his reputation as Oxford's finishing coach for the Boat Race between 1973 and 1987, before joining the BBC.
He died on Saturday following a lengthy period of ill health.
Five-time Olympic gold medallist Sir Steve Redgrave said: "Rowing will miss him dearly and so will I."
Topolski guided Oxford through 15 races as coach, winning 12 including 10 in a row between 1976 and 1985.
His leadership lay the foundations for a staggering run of success which continued after his departure and, by 1992, had enabled Oxford to triumph in 16 out of the previous 17 races.
His most famous victory was in 1987 when Oxford overcame the walk out of five American internationals just six weeks before the event to beat Cambridge by four lengths.
He later wrote a book about that incredible triumph, called 'True Blue, The Oxford Boat Race Mutiny,' which won the 1990 William Hill Sports book of the year award.
A film was later made of the book - True Blue - and shown at the 1996 Royal Command Performance.
Daniel Topolski: Rowing world pays tribute
Garry Herbert, who commentated alongside Topolski at Olympic Games and World Championships:
"I'm totally numb and in shock. I lost my wing man, none like him, one of a kind, one of the good guys."
Oxford University Boat Club:
"His legacy is woven into the OUBC today from those victories and his continuing deep involvement with the club and the many athletes who have had the privilege of knowing him. Everyone at the OUBC has Daniel and his wife, Suzy, his children, Emma, Tamsin and Luke and his sister, Teresa, in their thoughts and prayers."
David Searle, director, The Boat Race Company Ltd:
"Dan has been an ever-present part of The Boat Race since he rowed in the 1967 race. As a winning coach, his record from 1973 - 1987 was phenomenal. He had many friends within the Oxford camp given his long connection with the Boat Race but he also counted many from Cambridge as friends, too. The Boat Race has lost a real character."
Olympic gold medallist Sir Matthew Pinsent:
"RIP Dan Topolski Oxford Blue, World champion, Oxford coach and Henley Steward. What a pleasure to share our sport with him."
After inspiring such a famous victory, Topolski also worked as a motivational speaker for businesses and he also won the 1993 Travelex Radio Award for his BBC series 'Topolski's Travels'.
Redgrave added: "Dan was a good friend and a rowing man through and through, a great rower and sculler, Oxford blue, world champion, Henley steward and a loyal club man before turning his hand to coaching.
"He turned Oxford's bad run into dominance in the 1980s through fantastic organisation and then he joined an incredible commentary team seeing Great Britain become dominant in the world."
Fellow BBC commentator Barry Davies, a close friend who worked alongside Topolski on the Boat Race for many years, said: "His presence in whatever role dominated the Boat Race.
"As he demanded of his crews, he fought life to the finish, and it was a very full life. Being alongside him in the 'one foot victory' is an indelible memory. It was a privilege, and fun, to have known him."