Helen Glover: Olympic champion considers switching boats
Last updated on .From the section Rowing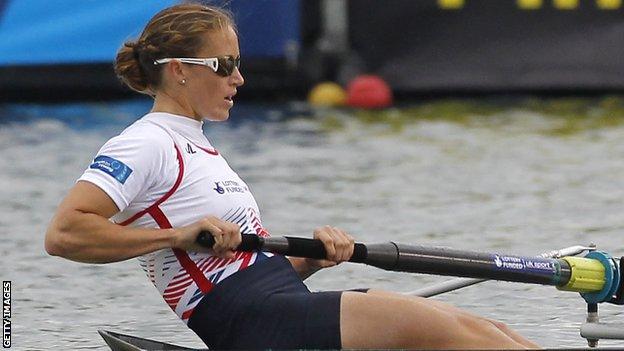 Olympic women's pairs champion Helen Glover says she would consider changing boats after the 2016 Rio Olympics.
Glover and is preparing for next month's European Championships.
"I would like the opportunity to maybe branch out and try a different boat," Glover, 28, told BBC Radio Cornwall.
"But that would need some careful consideration as to whether I was going to continue after Rio, as I don't see myself moving boats before Rio."
Glover has won the last two World Championships in the pair, with and with as well as taking
"The pair is the only boat I've rowed internationally and that wasn't intentional, I started rowing with Heather, we went fast enough to be selected together and it happened to be in that boat type," she said.
"We then happened to keep on winning, so there was no reason to leave that event.
"But if Heather hadn't come back after the Olympics when she had a year out and then I might have considered doing something like the single or the double.
"But I get to row with Heather, she's a great friend and a great team-mate and at the moment it's a formula that works."
While Glover and Stanning are targeting gold in Poznan next month, the main aim is retaining their world title in France.
"Really this season is about the World Championships in September," added Glover.
"It's really important this year because it's the Olympic qualification regatta, so every boat has to come in a certain position to guarantee a slot in the Olympic Games in Rio.
"Last year the World Championships were fantastic, they were great and they were important, but this year winning and medalling is important, but qualification is on everybody's mind."